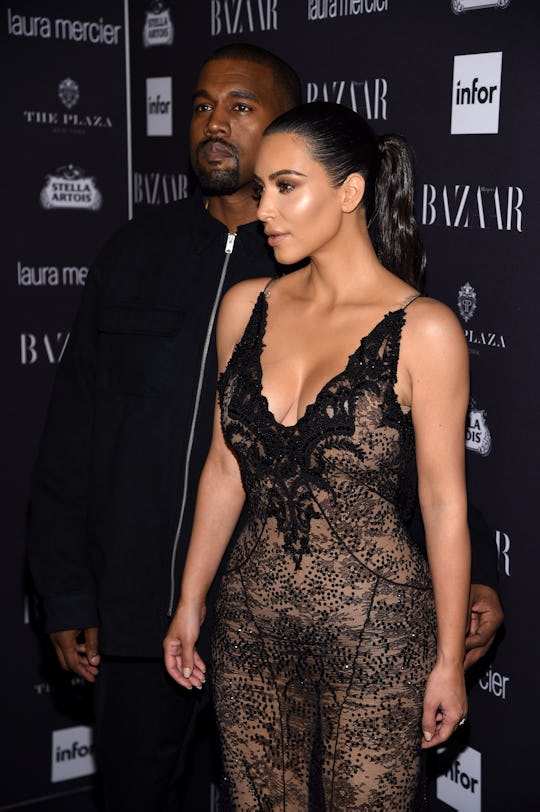 Dimitrios Kambouris/Getty Images Entertainment/Getty Images
Kim Kardashian Remains Supportive Of Kanye West After His Pro-Trump Rant On 'SNL'
Those who tuned into Saturday Night Live on Sept. 29 probably saw that Kanye West was the guest performer for the night. What they didn't see, however, was the rapper's controversial rant — which was cut off for viewers at home — at the show's conclusion. Thanks to footage that's been leaked since his appearance, the Twitter-sphere got hear exactly what was on West's mind. And apparently, Kim Kardashian remains supportive of Kanye West following his pro-Trump rant on SNL.
As CBS News reported, West performed "Ghost Town" while wearing a "Make America Great Again" hat as the show credits played on screen. What wasn't broadcast were his comments regarding President Donald Trump. "It's so many times that I talk to a white person about this, and they say, 'How could you support Trump? He's racist.' Well, if I was concerned about racism, I would have moved out of America a long time ago," West said, according to CBS News. "We don't just make our decisions off of racism. I'ma break it down to you right now ... If someone inspires me and I connect with them, I don't have to believe in all they policies."
As audience members laughed at him, West called them — and the show's producers out for "bullying" him for his views. You see they laughing at me. You heard 'em. They scream at me. They bully me. They bullied me backstage. They said, 'Don't go out there with that hat on,'" he said, according to the publication.
Following his SNL performance and subsequent pro-Trump rant, West then called for the 13th amendment — yes, the one that ended slavery in the U.S. — to be abolished via Twitter. Alongside a photo of himself wearing a MAGA hat, he tweeted, "This represents good and America becoming whole again. We will no longer outsource to other countries. We build factories here in America and create jobs. We will provide jobs for all who are free from prisons as we abolish the 13th amendment. Message sent with love."
A little while later, West seemingly clarified his statement, tweeting, "The 13th Amendment is slavery in disguise meaning it never ended. We are the solution that heals."
In light of West's recent bizarre rants, fans were likely wondering where Kim Kardashian stood on it all. And it looks as if she's standing by her man — at least, publicly. "Having all this backlash against Kanye is embarrassing for her and her family, but she will never say that," a source told People. "She supports Kanye through and through and truly does think her husband is entitled to his own opinion." Although Kardashian was in the SNL audience when it all went down, she apparently wasn't fazed by West's comments. "While Kanye talked, Kim just stood in the back and watched," a different source told People. "The kids were there, too. She didn't seem like anything [was up], she was just watching."
"They definitely have their issues, but Kim always defends Kanye publicly and tries to be supportive," an insider told E! News. "She believes Kanye is entitled to his opinion and can express it freely. She may not always agree with him, but she still feels he's allowed to believe what he wants." She source continued:
This is who he is and she knew that when she married him. He's always been controversial and can ruffle feathers. Kim's not surprised in the least bit. Kanye loves to speak his mind and that's not going to change. Whether or not Kim shares the same beliefs, she knows she's never going to stop Kanye from expressing himself.
In the past, Kardashian has defended her husband's controversial political statements — while also acknowledging that she doesn't personally share his views. "Now when he spoke out about Trump... Most people (including myself) have very different feelings & opinions about this. But this is HIS opinion," she tweeted back in April, following West's epic series of pro-Trump tweets, according to Us Weekly. "I believe in people being able to have their own opinions, even if really different from mine. He never said he agrees with his politics."
For the record, it doesn't look as if Kim K herself has tweeted or given any statements regarding West's recent comments. So it's probably best to take these sources' statements with a grain of salt. But I, for one, wouldn't be surprised if she continued to publicly support West — even if she is internally horrified by what has gone down in the past few days.