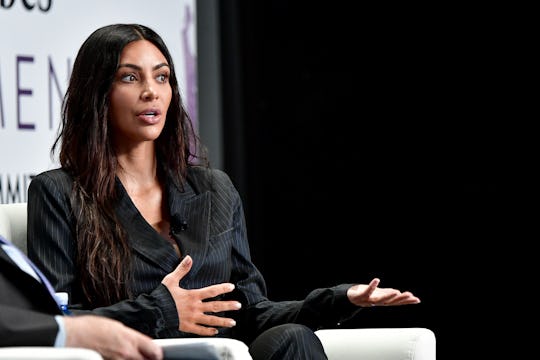 Dia Dipasupil/Getty Images Entertainment/Getty Images
Kim Kardashian Responds To Blackface Allegations
Say what you will about Kim Kardashian, but the 36-year-old mom of two is a female entrepreneurial force with which to be reckoned: There's the reality TV empire, the various fashion lines, perfumes, a lifestyle app with her very own emoji — and, launching Wednesday, her very first beauty line. But like so much of Kardashian's celebrity, even launching a new beauty line isn't without controversy. On Monday, Kim Kardashian responded to blackface allegations after releasing a KKW Beauty promotional image on her Instagram account Wednesday.
The photo featured Kardashian sporting some of her KKW Beauty Creme Contour and Highlight Kit, her hair pulled up into her signature severe high ponytail as she looks over her shoulder, smoldering for the camera. But there's no denying Kardashian's KKW Beauty photo makes her appear much darker than she usually does. Many commenters on social media accused Kardashian of donning blackface to promote her new beauty line.
After several days of backlash online, Kardashian responded to the blackface allegations in an interview with The New York Times. According to Kardashian, she was "really tan" when she was photographed for the images, and admits that the lighting and contrast "was off." More importantly, Kardashian said she never wanted to offend anyone.
Here's the image in question, from Kardashian's Instagram account:
To many fans, Kardashian doesn't totally look like herself in this photo. And that's pretty much what Kardashian noted in her interview with the Times. Here's Kardashian's full statement from her interview:
I would obviously never want to offend anyone. I used an amazing photographer and a team of people. I was really tan when we shot the images, and it might be that the contrast was off. But I showed the image to many people, to many in the business. No one brought that to our attention. No one mentioned it.
Of course, I have the utmost respect for why people might feel the way they did. But we made the necessary changes to that photo and the rest of the photos. We saw the problem, and we adapted and changed right away. Definitely I have learned from it.
Now, before folks can write off her response regarding her tan, she did post a photo of herself and husband Kanye walking hand in hand on his birthday on June 8 — and she was rocking a pretty heavy tan in that photo, too:
While we don't know when Kardashian had her KKW Beauty photo shoot, if it was recent, there's a pretty decent chance that her tan totally played a factor. But let's also get real, too: Do fans honestly think a woman with a multimillion dollar business empire would actually use blackface to promote her first foray into the beauty line business? And, as Kardashian claims, would the many people who reviewed the image before it went live let her fail in such a spectacularly racist way? Honestly, I doubt it — not when there's so much money on the line when it comes to expanding her empire.
Blackface allegations aside, Kardashian took the high road and acknowledged the outrage among her fans and took steps to make sure the rest of the photos look the way they should.