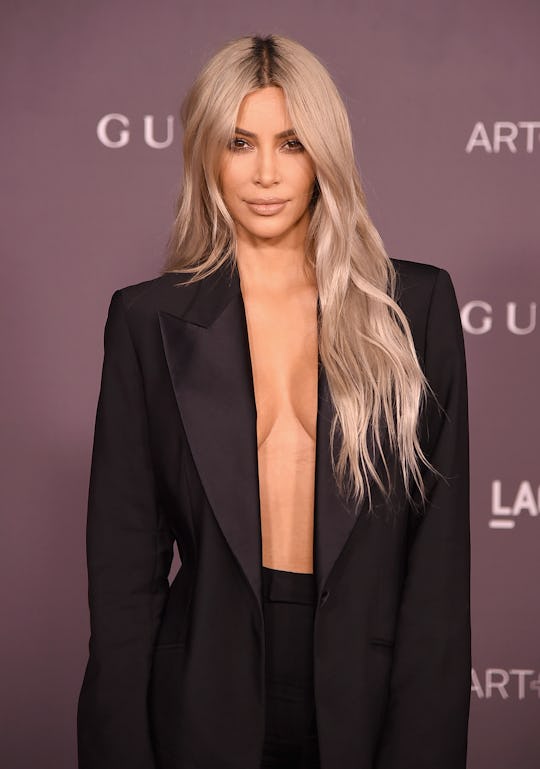 Kevin Winter/Getty Images Entertainment/Getty Images
Kim Kardashian Revealed She Uses This Hand-Me-Down In Chicago West's Nursery
How many moms out there try to make good use out of things from their first child when they have more kids? Hand-me-downs are quite common, but you'd think glamorous A-listers would tend to buy new. So, it may surprise you that when Kim Kardashian revealed Chicago West's nursery details, she admitted to reusing items from her other children. And, why shouldn't she? This is her third child. Even though she has millions of dollars to spare, does she really need to buy things that she already has, just because one of her other children used them? Why waste the money, right?
In an interview with Architectural Digest, Kardashian talked about her new daughter's nursery, how to avoid baby-proofing your home, and how she uses items that she previously had from her other two kids. When talking about baby Chicago's nursery, she told the publication:
I'm pretty much using the same crib and everything that I had for our other kids. We have a Vetro Lucite crib and we have a Royère bed in there and a really fluffy cream rug. We had a changing table made. I have a glider with an ottoman for feeding.
Who knew that Kardashian would be reusing her crib? It's refreshing to hear that she can be down-to-earth and thrifty, just like every other mom out there. And, honestly, when you have luxury items like a lucite crib — which will run you a whopping $4,500 — why not make the most out of using them while you can? It's only practical, right?
With three children comes a lot of messes and Kardashian has a very light, mainly white home, according to People. She also enjoys unique furniture and finishes, so how does she manage to keep it clean and safe for her kids?
Kardashian told Architectural Digest that she and husband Kanye West wanted a white home, so they practiced with their previous home, making it all gray, to see if they could handle it with the kids. But, as any parent can imagine, this can be pretty challenging with two young, rambunctious kids running around.
And Kardashian's little ones, 4-year-old North and 2-year-old Saint, are no exception, as she explained to Architectural Digest:
One time I walked in and my daughter had purple nail polish all over her little kid's vanity, all over her toys, and all over the walls, and I had just left the room for not even five minutes.
Chicago West was born on Jan. 15, the now mom of three announced on her website. And, prior to her arrival, Kardashian appeared on The Ellen Show to talk a bit about her future arrival. Kardashian accidentally revealed she was having a girl and dished that her daughter North wanted to play with all of her unborn sister's toys since she wasn't in the picture yet.
Kardashian also said she was struggling with how to explain having another baby to her two little ones, especially since she was used a surrogate, according to The Sun. What parent doesn't have a hard time with telling their kids where babies come from?
So, it looks like Kardashian is just like every other mom out there. Although her income is starkly different than most parents, hand-me-downs are always a great idea, even if you have millions to your name. And if she wants to hand any of her luxury baby goods down to me, I'm not going to look a gift horse in the mouth. Keep the hand-me-downs coming!
Check out Romper's new video series, Bearing The Motherload, where disagreeing parents from different sides of an issue sit down with a mediator and talk about how to support (and not judge) each other's parenting perspectives. New episodes air Mondays on Facebook.