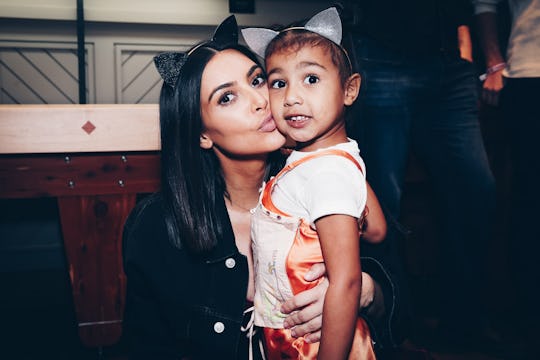 Handout/Getty Images Entertainment/Getty Images
Kim Kardashian Revealed Her Favorite Kids Toys & They're More Affordable Than You Think
Some people think that Kim Kardashian has it all — and it's easy to assume why. She is a super successful woman who has multiple businesses and finds the time to star on her family's reality show, Keeping Up With the Kardashians, all while being a full-time mom to her three young children under the age of 5. While it might be pretty hard to fully "keep up" with the celebrity who has pretty expensive taste, it isn't as hard to keep up with her kids. On Wednesday, Kardashian revealed her favorite kids toys and they're actually a lot more affordable than people might expect.
Kardashian knows a thing or two about playing with her kids — after all, she is a mom to 4-year-old daughter North, 2-year-old son Saint, and newborn daughter, Chicago with her husband, Kanye West, according to Us Weekly. Kids that age, especially, love playing with new toys and Kardashian's children are no exception to this. In a new post on her app, according to Us Weekly, Kardashian revealed that her kids love to "run wild" in the playroom where they let their creativity flow.
But when their own imagination isn't enough, Kardashian revealed that they use some help from six toys, ranging in price from $18 to $99 and they're all very useful for other moms, too — unlike one of those designer handbags that Kardashian carries that will inevitably get drawn on by someone else's kid on the playground.
Since Kardashian and West are known for having expensive taste (some of her outfits cost thousands of dollars alone, according to E! News), it shouldn't come as a surprise that their children might have sophisticated palettes, too. This past February, Kardashian revealed that North and Saint's favorite foods are hot dogs and sushi, according to People — but eating sushi every day isn't necessarily a part of a balanced diet for a 4-year-old. Instead of eating actual sushi, her kids can pretend to eat sushi with the sushi selection toy from Hape, which costs $24.99 and comes with different varieties of pretend sushi and even their own set of chopsticks. It's much cheaper than buying (and eating) the real thing and allows her kids to really put their imaginations to use.
Another way that Kardashian's kids are likely putting their imagination to use is through coloring (really, what kid doesn't love creating a masterpiece). But, of course, the Kardashian-West children have to color in style. In her post, according to Us Weekly, Kardashian revealed that she loves Pirasta's giant coloring poster, which can be put on the floor, and be colored in by multiple kids at once (and is only $20), and using Kitpas eco-friendly crayons (which retail for $20) to color in the poster.
While these toys all sound like something that Kardashian's older kids get to use, never fear — Chicago has a favorite, too. In Kardashian's post, according to Us Weekly, Kardashian revealed that Chicago loves the Estella hot sauce rattle, which costs $18, because Chicago doesn't have enough spice in her life already with Kardashian and West as her parents.
When her kids want to move around a bit, there are toys for that as well. Kardashian revealed in the post that her kids love the Plan Toys Walk N Roll, which creates a fun sound when rolled (and only costs $30). And when they really want to create some movement, they have the Hape High and Low train set, for $99, which is much like the magnetic train sets many people are familiar with playing with as a child.
It's clear that Kardashian's kids love playing just as much as any other children and she loves playing with them. On Tuesday, Kardashian took her kids to Disneyland, according to TMZ, where they went on rides together. And during an event in February, Kardashian revealed that she stays present with her kids by playing with them and giving them her full undivided attention, according to People, rather than being on her phone when she is with them. "I want my kids to see the separation and to feel the difference and know that there is a time and a place for that," Kardashian said.
Although the total cost of Kardashian and her kids' favorite toys aren't exactly the cheapest, you have to keep in mind that Kardashian reportedly put a $75,000 vintage bed in Chicago's nursery, according to E! News, as well as a $4,900 crib. While "keeping up" with Kardashian is pretty hard in a lot of ways, keeping up with her kids' toys is pretty easy and won't cost parents half of their savings to do so.