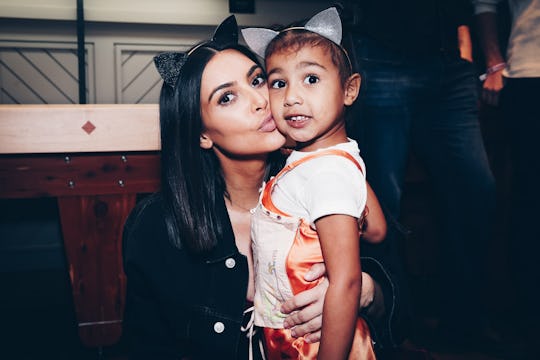 Handout/Getty Images Entertainment/Getty Images
Kim Kardashian Revealed 5-Year-Old North Is Struggling A Bit With Adjusting To Big Sister Life
Once an only child, always an only child, right? Well it seems 5-year-old North West might be a little confused about where she falls in the family rank. In fact, during a recent interview on Ashley Graham's podcast, Pretty Big Deal, Kim Kardashian revealed how North is adjusting to big sister life and so many parents can relate to the mom of three's situation right now.
While North might be the oldest of three, she still seems to act like an only child, according to People. She lost her only child status back in 2016 with the birth of her brother Saint, and then again to her baby sis, Chicago, who was born at the beginning of this year. Someone better send North West the message that she has two other siblings; she might be the oldest, but she's definitely not the one and only.
But, it makes sense that North is having a tough time adjusting. Firstborn children benefit from the full attention of their parents, which sometimes results in them acting like mini adults. They strive for perfection in everything they do, often to win the affection and the approval of the adults in their life, according to Parents. Other traits include being mature for their age and natural born leaders.
And, it's no coincidence that firstborns share many of the same qualities with only children, as explained by The Atlantic. This seems to be North to a tee, judging by the way she treats her little brother. Totally typical of an older sister.
"She has a sign on her door that says, 'No boys allowed.' She won't even let Saint step foot in her room. If he does or if he's with me and I have to take care of both of them… it's like full war," Kardashian said on the podcast, according to People.
As for Saint, Kardashian said on the same interview that he's the sweetest boy and just wants to love on his sisters and mommy. "It's so funny, and he's just the nicest human being on the planet. Today he's like, 'Mom, you're my best friend' … so I tried to get him on video, so I was like, 'What did you say?' And he said, 'I love you so much, Mom.' I was like, 'Even better!'" Kardashian said, according to People.
And it sounds like Kardashian is hoping this is only a phase for her oldest. According to ELLE, the mom of three explained:
North acts like an only child at all times. I think she's a little confused. She's beyond jealousy now. She's just like, "It's my world." She said to me the other day, "Mom…we just need to have another baby brother so that Saint can just leave me alone… so the girls can be on this side of the house and the boys can be on that side of the house."
Kardashian seems hopeful that North will eventually adapt and learn to love being a big sister to Saint and Chicago. Until that time comes, though, Chi and Saint might have their work cut out for them...