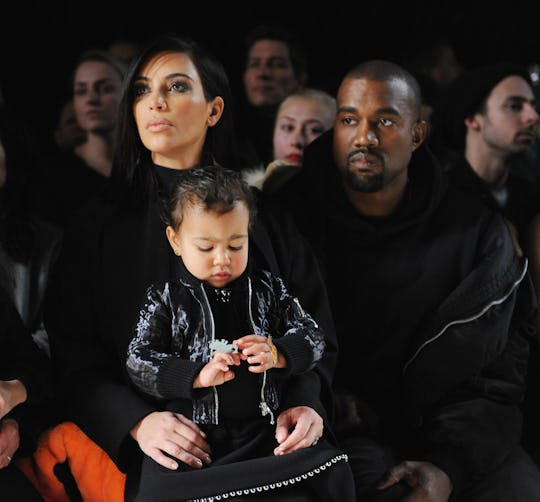 Craig Barritt/Getty Images Entertainment/Getty Images
Kim K Reveals There's Some Serious Sibling Rivalry Between North & Saint
Kim Kardashian is very familiar with sibling drama, as any casual fan of Keeping Up With The Kardashians knows. But now, she's seeing it happen between her own young children, and the reality star is not entertained. Apparently, Kardashian's daughter, North, doesn't like her little brother, Saint, as the mom of two revealed on Monday. And, as it turns out, it's really hard for the 36-year-old reality star to handle.
Kardashian talked about the baby feud when she filled in for Kelly Ripa on Live With Kelly and Ryan. When co-host Ryan Seacrest asked her about the sibling dynamic between her two children, 4-year-old North and 20-month-old Saint, Kardashian got into all the drama that North was creating with her younger brother. According to the segment, Kardashian revealed:
I don't know if it's because she's the older sister. I don't know what it is. I thought it was a phase. She does not like her brother and it's so hard for me... She gets so jealous when I would breastfeed and all that kind of stuff and now, the phase isn't going away.
Apparently, North has tried being sneaky with her tactics to exclude her brother, telling her mother all casually that she wants to have tea parties with "no boys allowed," and then slamming the door in her younger brother's face. But while little North may think she's outsmarting her mother, Kardashian isn't fooled.
The situation that Kardashian and her husband, rapper Kanye West, find themselves in now is a familiar one for many parents. In fact, according to Parents, older children get jealous of new siblings all the time, and respond with various ranges of vindictiveness when they realize that no, the family can't send the baby back.
It seems that, like many members of her family, North loves the spotlight, so of course she's not going to want to share it. And poor little Saint, who is all about imitating his sister — Kardashian also told Seacrest that when North starts crying, Saint will start fake-crying to be just like her — has to suffer the consequences.
It does seem like this sibling adjustment is taking longer than expected. But at least it also sounds like Kardashian is trying to teach North about sharing and responsibility. She recently got her daughter an adorable, fluffy puppy. And while one doesn't necessarily need a reason to get a puppy besides wanting all the cuddles, reportedly Kardashian got North a dog so that she could learn how to take care of others. What better way to solve this kind of problem than with a puppy?
And now that Kardashian and West are reportedly getting ready to welcome a third baby, via a surrogate, that now means that Saint may soon have to learn how to deal with a younger sibling himself.