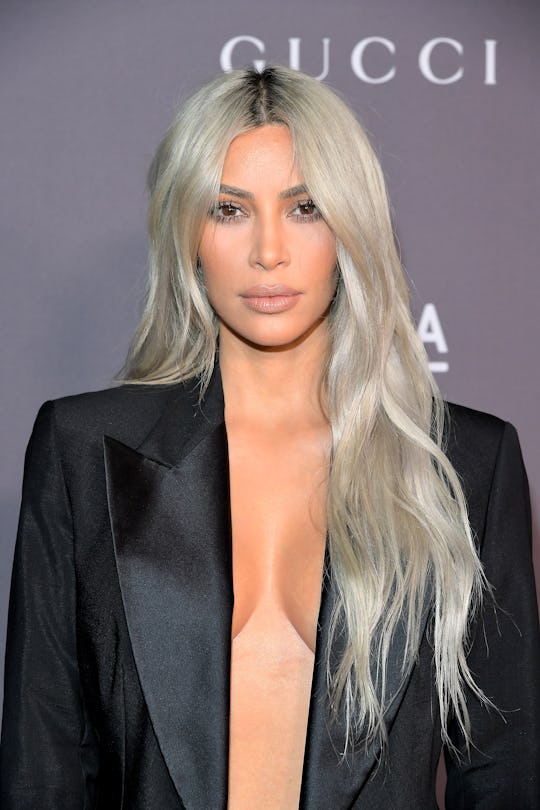 Charley Gallay/Getty Images Entertainment/Getty Images
Kim Kardashian Says Chicago Wasn't Actually Her First Choice For Her Daughter's Name
Following the births of Kylie Jenner's daughter Stormi Webster and Khloé Kardashian's daughter True Thompson, Kim Kardashian and Kanye West's little girl Chicago West may have slipped your mind. Oh, who am I kidding — no she hasn't. Baby Chi has captured hearts with her sweet face and unique name, but it turns out that Chicago wasn't Kim Kardashian's first name choice for her little girl. She was thinking something simpler, but dad fought for the special name that ended up sticking.
Kim recently appeared on an episode of The Ellen DeGeneres Show where she talked all things baby Chi, who was born on Jan. 15, 2018 via surrogate. During their chat, Kim told DeGeneres that she had originally hoped to name her daughter Mary Jo, after Kris Jenner's mother Mary Jo (MJ) Shannon, according to Us Weekly. But the little girl had a few name options before her parents landed on Chicago. "We were gonna name her Jo because my grandma Mary Jo or we were gonna go with Grace and then it was Chicago," Kim said. Ultimately, they landed on Chicago because Kanye fought for it, according to Us Weekly. It sounds like Kim may still be adjusting to the name though, from what she told DeGeneres.
The show's host then reminded Kim of a conversation that the two of them perviously had about baby names, Daily Mail UK reported. "When I was pitching names you said you wanted one syllable," DeGeneres said, to which Kim replied, "And I did. Chicago is not one syllable. It kind of messes with me, I'm not gonna lie. I really like the one syllable thing." Her other two children, North and Saint, both have names with a single syllable.
Kim's desire to name to a baby after Shannon isn't all the surprising. Her maternal grandmother appears to be very close with the family. Along with occasionally appearing on Keeping Up With The Kardashians and the annual family Christmas card, she and Kim have been photographed out shopping together a few times, according to The Daily Beast. And in March, Kylie Jenner posted a couple of photos to Instagram of Shannon with baby Stormi. Kylie captioned the post, "i mean.. does it get any better than this?" No, I don't think that it does. Shannon is also close with her daughter Kris Jenner. The Cut reported that Kris even bought Shannon a condo in Los Angeles to allow her to spend more time with her and her many grandchildren and great-grandchildren.
Although Kim and Kanye didn't opt to name their youngest baby after Shannon, her name still has a special meaning. The city of Chicago is near and dear to Kanye's heart. "Obviously he's from Chicago but that is a place that made him," Kim told DeGeneres in the same episode. The two of them also considered naming the baby after Kanye's late mother, Donda West, who passed away in 2007. They ultimately decided against it though. "I just wasn't sure if it's too much to live up to," Kim said. "I just felt like Chicago is cool and different."
Choosing the perfect name for a baby can be incredibly difficult, almost impossible really. Matching it up with a middle and a surname, planning for any potential nicknames that might pop up down the line, honoring family names — these factors and more are enough to send anyone straight to the baby name books. It sounds like Kim and Kanye went through the same sort of back and forth that many parents endure when choosing a baby name, but they seem to have found the perfect name for their little girl. Kim even got the one syllable name that she wanted when you consider the adorable nickname "Chi." I'm sure they can't imagine calling their daughter anything else now.
Check out Romper's new video series, Bearing The Motherload, where disagreeing parents from different sides of an issue sit down with a mediator and talk about how to support (and not judge) each other's parenting perspectives. New episodes air Mondays on Facebook.