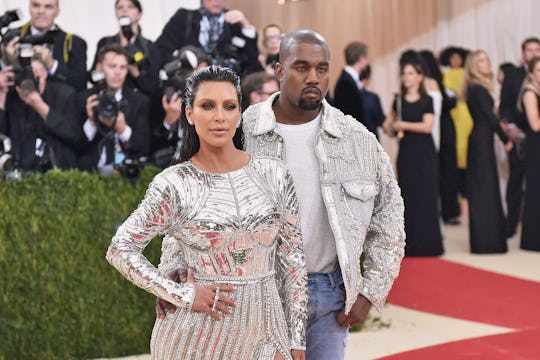 Mike Coppola/Getty Images Entertainment/Getty Images
Kim Kardashian Reveals The Real Reason Kanye West Didn't Attend The 2018 Met Gala
If you didn't tune into the red carpet coverage for the Met Gala on Monday evening, then you definitely missed out on one of the biggest nights of fashion. A slew of A-list celebrities strutted their styles last night, including three of the Kar-Jenner sisters — Kim Kardashian, Kendall Jenner, and Kylie Jenner. Out of the trio, Kim Kardashian's Versace dress probably turned the most heads. However, something else also caught the attention of both commentators and fans alike: Kanye West was nowhere to be found. For those wondering why Kim K wound up solo on the red carpet, here's why Kanye West really missed the Met Gala on Monday.
Although many fans suspected that West was MIA last night to avoid any distractions caused by the rapper's controversial Twitter rants and interviews on racism — which, to be fair, would have been a totally legit excuse so Kim K could have a chance to enjoy the spotlight — the real reason is decidedly less dramatic. Kim Kardashian revealed why her husband wasn't by her side on the red carpet with a tweet, E! Online reported. "Love you babe wish you were here with meeeeee but you're only finishing up 5 albums," the KKW Beauty mogul tweeted during the early hours of Tuesday morning. Yeah, so it looks like Kanye may have been just a little too busy for the Met Gala this year. Which is completely understandable.
Even without her hubby physically by her side at the gala, Kardashian undeniable owned the red carpet anyway. Elle reported the Keeping Up with the Kardashians star wore a gold Versace dress with cross detailing. Between this stunning dress — which was totally on-point with this year's theme, "Heavenly Bodies: Fashion and the Catholic Imagination" — and her flawless makeup, I couldn't take my eyes off her! This girl was on fire.
As E! Online reported, Kim Kardashian and Kanye West have attended the annual benefit at the Metropolitan Museum of Arts together for many years. In 2013, the couple wore Givenchy — and Kim K's floral gown became a viral meme overnight, according to BuzzFeed. In 2014, they wore Lanvin, and a sheer, feather-trained Roberto Cavalli in 2015, E! Online reported. Then in 2016, Kardashian and West went with a Balmain gown. However, 2016 derailed their four-year streak when Kim K walked the Met Gala red carpet solo. If you remember, this was not long after West was voluntarily hospitalized for mental exhaustion and sleep deprivation, following a series of outbursts and the cancelation of the remainder of his tour, Teen Vogue reported.
Even if Kanye West wasn't crazy-busy with work deadlines, it would still make sense if Kardashian had encouraged West to sit this one out for other reasons. Because as fans are acutely aware, West's recent Twitter rants about his support for President Donald Trump (among other things) have caused quite the online backlash, Cosmopolitan reported. And fans of West's music/the Kar-Jenner gang won't soon forget his true feelings about slavery in the U.S. On May 1, West appeared on TMZ Live, where he said:
You hear about slavery for 400 years. For 400 years? That sounds like a choice. Like, that was there for 400 years and it's all of y'all? It's like, we're mentally in prison.
Yeah... if I were Kim Kardashian, I'd want to make sure any commentary about Kanye West's thoughts on Donald Trump and slavery stayed far away during the Met Gala. Because the night should be about fashion and art, and I'm sure Kim wanted to focus on simply having a good time. So I guess it all worked out for the best that West needed to sit the Met Gala out this year to focus on finishing up albums. The buzz surrounding his controversial opinions had a chance to die down, he had the opportunity to be productive, and Kim K slayed on the red carpet. If you ask me, that's a win-win-win right there.