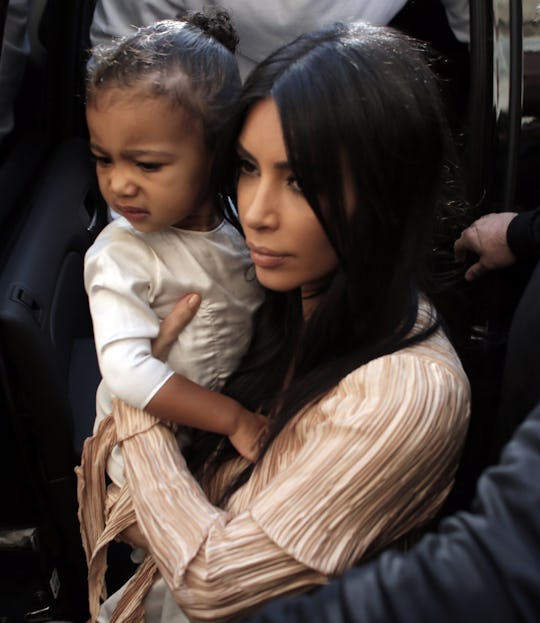 AHMAD GHARABLI/AFP/Getty Images
Kim Kardashian Reveals What She Thinks Is The Hardest Part Of Being A Mom
As Kim Kardashian and Kanye West prepare for the birth of their third child via surrogate, they're undoubtedly keeping busy with the two little ones they already have. The soon-to-be mom of three recently opened up about the unique struggle that is parenthood. In a post on her website, Kim Kardashian reveals what she thinks is the hardest part about being a mom, and it's refreshingly honest
On Wednesday, Kim K took to her app to discuss the struggles of raising her daughter, North, 4, and son, Saint, who is nearly 2. "There definitely are so many challenges," she explained, according to InStyle. "From brushing hair and teeth in the morning, it's the small things and attitude changes that you have to work with."
Despite the daily demands from her children, it seems Kardashian also appreciates the joys motherhood brings. Because although children definitely have a way of testing parents' patience, watching them grow and learn is an experience like nothing else. "It's all so much fun. It's the little things that bring so much happiness," she said, according to the outlet. "The funny things the kids say, their honesty. The way they really need you. I love it all!"
So sweet! And come Christmas, Kardashian will have another little cutie for triple the chaos, love and laughter — or maybe even two, according to some fan theories. The Kardashian-West surrogate was originally reported to be due in January. However, according to an insider, the little babe is expected to be here by the Dec. 25 holiday, reports Us Weekly.
After months of speculation about a possible surrogate, Kardashian confirmed that she and West were expecting a third child via Twitter. She ended up tweeting a clip from the upcoming season of Keeping Up With The Kardashians in which she announces to her sister, "We're having a baby!" On Monday, Kardashian took baby talk to Twitter again, writing, "Anyone know who makes the best double stroller? Not a tiny compact one but regular size."
It took about 10 seconds for fans to start speculating about the possibility that the surrogate is having twins. Never mind, you know, that she already has two children — and will have two under 2 once the baby arrives.
"I have two kids people!!!! LOL," Kardashian pointed out on Twitter about an hour later. Still, you have to admit it's a compelling theory.
Twin conspiracy theories aside, I feel Kardashian's sentiments on motherhood so hard. As a mom of three kids, ages 6, 3, and 18 months — I can't definitively say there isn't one thing that makes parenthood difficult. It's the culmination of the exhausting details — all of the little things I have to do and remember every day — that makes it overwhelming at times. Especially with multiple children, it feels like my brain is constantly pulled in a million directions.
My internal dialogue at any given moment goes something like this: "OK, my son is packing tomorrow for lunch and needs to wear crazy hair for Red Ribbon Week. After school, he has piano lessons and needs to read for 20 minutes. My pre-schooler has to color the letter "G" and bring in something for show-and-tell. The toddler has a checkup. Not to mention they all need to be fed, dressed, shuttled from here to there, bathed, and loved." It's physically and emotionally draining.
So to me, it's like a breath of fresh air when celebrities get real about their personal lives, even for a moment. Because the flawless photos in magazines and on social media tend to suggest they exist in perfect bliss and couldn't possibly struggle with the same issues us everyday folks do. Except they do. Thanks for keeping it real, Kim. From one mom to another, it is greatly appreciated.
Watch Romper's new video series, Romper's Doula Diaries:
Check out the entire Romper's Doula Diaries series and other videos on Facebook and the Bustle app across Apple TV, Roku, and Amazon Fire TV.