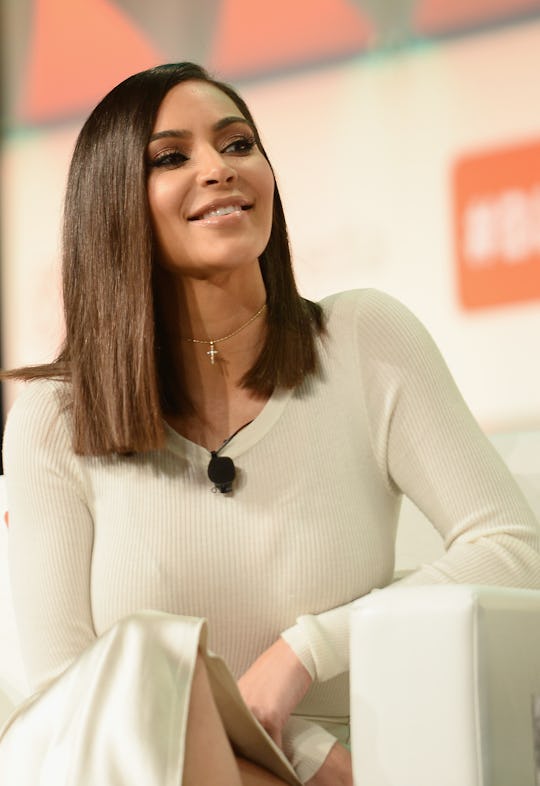 Matt Winkelmeyer/Getty Images Entertainment/Getty Images
Kim Kardashian Reveals When North West Can Use Social Media, Every Parent Ever Agrees
She has 79 million followers on Instagram and has already broken the internet twice. With so much attention on the Keeping Up With The Kardashians reigning reality star and her family life many are understandably curious about when she'll let her children have accounts of their own. Recently, Kim Kardashian revealed when North West can use social media and it refreshingly wasn't what you might expect. The selfie queen doesn't plan on having her little ones manage their own pages anytime soon, which is something every parent can agree with.
On Friday, the mother of two was a guest speaker at the #BlogHer16 exposition in Los Angeles where she talked about reality TV, business, and her social media habits and how she balances it all with her family life. She may be no stranger to the spotlight, it's what her career has been built on after all, but Kardashian told the tech audience that she's very careful to protect her children from the attention she and the rest of her family have experienced since the insanely popular E! reality series took off in 2007.
"You'll notice on weekends that I don't post as much because I'm with my kids," she said at the exposition. "I'm really protective of my life with them. You might see them on Keeping Up With the Kardashians a little bit, but no real stories about them. Selfishly, I like that I can bring my kids to work. If I'm filming, I'm not going to say stop, I just tell [the crew] please don't get faces. They're there, but there's never stories around the children."
Saint West, her eight-month-old adorable son, was one part of her life that she had tried to keep as private as possible. Well, because she kept her baby boy out of the public eye for some time bizarre rumors got started that her very public last pregnancy was just a publicity stunt.
"In this world, it's like if you didn't post it, it doesn't exist," Kardashian said. "People literally thought Saint didn't exist. They thought I had a whole fake baby because I wasn't posting about him. It was ridiculous."
It's no lie that the famous mama knows a thing or two about the perks and pitfalls of social media. And even though her daughter North is popping up on her Snapchat and Instagram posts more frequently, Kardashian knows that the world of social media is no place for adorably innocent children.
"NEVER!" Kardashian said after she was asked when her toddler would have her own social media accounts. "Just kidding. I don't know. Some people have accounts for their babies, I don't think I'll do that. I think they'll have to ask me and have a conversation about that."
"I kind of went through that with my youngest sisters Kylie and Kendall," she continued. "They wanted Facebook accounts and me, Khloe and Kourtney had their passwords and spied on them for my mom. I'll be overprotective to an extent, creeping on their accounts all the time, but I think I actually know Kendall and Kylie so much more from watching their Snapchats."
Over the years, Kardashian has grown a thick skin to deal with the scrutiny and criticism that tends to come with fame, even more so if a celebrity is as active on social media as she is. At the exposition, she shared with the audience that she plans on passing this coveted wisdom on to her children. She said:
"I hope that my kids learn to understand that they really can do anything they want to do, and to always be kind. In as abnormal of a world that they're raised in, that they are good people and live just as normal as possible. I hope that they are outspoken and follow their truths. And for any mistakes, I hope they see no one is perfect. People make mistakes, I've made a ton and they've been public, but you can get through anything. Try not to make the same mistake twice. Learn and grow from your mistakes."
It's doesn't seem like the high profile mama will have to worry about her children begging to be on social media anytime soon. Three-year-old North seems be interested in being behind the scenes and is currently obsessed with YouTube videos.
"She always wants to watch YouTubers," Kardashian said. "You know that one with the kids, where they open up all the gifts? My daughters obsessed—she just watches the toy tutorials!"
In this day and age, the social media discussion is an important teaching moment for kids, just like when adults today were given their first cell phone or when they first they logged on to the internet.
While Kardashian didn't reveal an exact age when her children will be allowed on social media, it definitely seems like she's thought about this moment for some time and has a very relatable parenting plan that most parents can agree with.