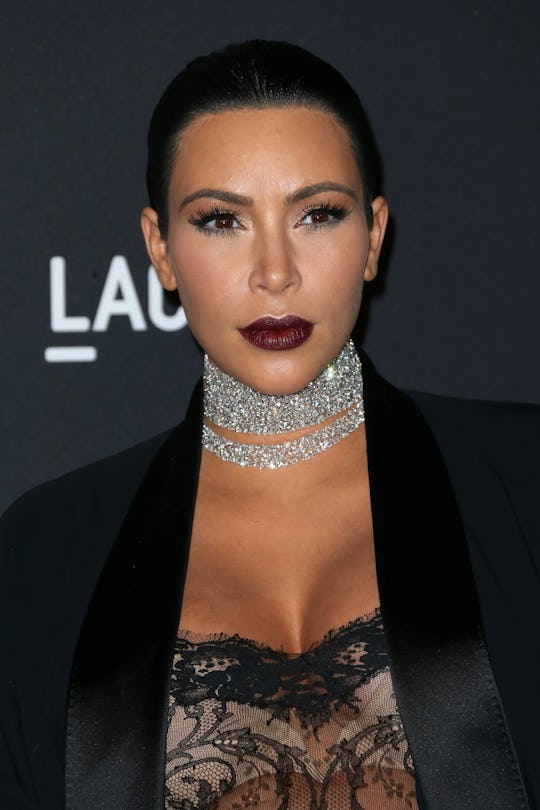 Frederick M. Brown/Getty Images
Kim Kardashian Rocked A Sheer Jumpsuit Last Night, & It's One Of Her Boldest Maternity Looks Yet
At the 5th Annual LACMA Film and Art Gala in Los Angeles Saturday, Kim Kardashian West wore a sheer, black lace jumpsuit, and totally showed off her baby bump in the best of ways. She's rocked a few bold looks in pregnancies current and past, and says she's proud to show off her pregnant look. "This time around, I know what I like," Kardashian wrote on her website, KimKardashian.com. "I am confident and not trying to hide my bump. I actually want to accentuate it."
She also wrote about her style during her last pregnancy with daughter North. "Everyone used to say Kourtney had the best pregnancy style, so I would borrow a dress she wore when she was pregnant," she wrote. "The side-by-side comparisons were just not good for my soul, so I finally had to figure out my own style that worked for ME!"
I'm sure we can all get on board with not comparing ourselves and figuring out what works for us. Throughout her second pregnancy, Kardashian has been doing just that. Her own personal pregnancy style? She's been rocking plenty of long coats, see-through fabrics, and even the occasional awesome cape with ease. Check out Kardashian's latest number:
Plenty of Kardashian's past maternity looks have also received a ton of attention — and that's no big surprise. I mean, Kardashian has solidified herself has something of a fashion icon. Of course she'd totally bring it during her pregnancies. And whether or not you think her looks go too far sometimes, I'm sure we can definitely agree on this: She's never afraid to take a risk. And more often than not, she totally hits the mark. 
Here's an overview of some of her boldest looks yet:
This Brown Corset-y Number At The 2015 MTV Video Music Awards
That Other Time She Went Sheer — And Played With Sequins & Tufts Of Fur
Two Words: Fishnet Dress
And As We All Know, She Always Brings It When She Shows Up To The Met Gala
But This Might Just Be Her Classiest: When She Donned This Gorgeous Gown — Complete With Its Own Cape
And Finally, She Pulled Off A Completely Flawless Great Gatsby-Style Dress For Her Mom's 60th
With about a month left of her pregnancy, I'm sure Kardashian West will be able to squeeze in another bold outfit (or two, or three, or four) before the world meets North's younger sibling. And I can't wait to see what it is.
Image: Frederick M. Brown/Getty Images (2)