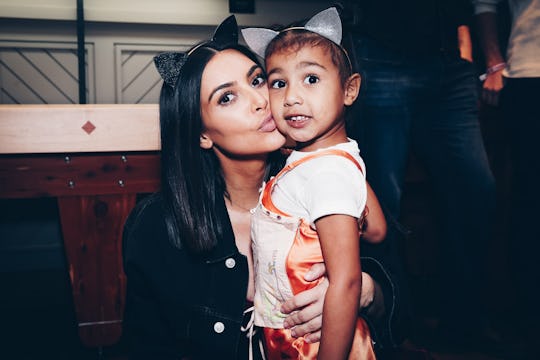 Handout/Getty Images Entertainment/Getty Images
Kim Kardashian Had The Best Response When North Asked Why She Was Famous
It's hard to deny that Kim Kardashians and her siblings are famous. They are everywhere — from TV screens, to billboards, to magazines. But just because people are pretty familiar with the Kardashians and their level of fame doesn't mean that the younger generation of Kardashians is familiar with it. Kim Kardashian is the mom to three young children — 5-year-old North, 2-year-old Saint, and newborn daughter, Chicago — who are still getting a hang of the whole fame thing. In a new interview, Kim Kardashian said North wanted to know why she was famous and Kardashian's response is surprisingly humble.
Kids ask a lot of questions. They want to know why the sky is blue, where babies come from, why humans have feet, and just about everything under the sun. It's this natural curiosity that makes kids so much fun to be around and makes them so inspiring.
But 5-year-old North West is not your average kid. While she might be asking questions just like the rest of them, her questions are a bit more sophisticated. Instead of wanting to know where her brother and sister came from, Kardashian said in a recent interview, according to People, that North wanted to know one thing — "Mom, why are you famous?"
Kardashian revealed during an interview on the radio show, Big Boy on Real 92.3, that North asked that question. This forced Kardashian to think of a response that would make sense to her young daughter and satisfy her curiosity at the same time. Kardashian said, according to People:
Oh, OK. I'm going to have to explain this right now. I'm like, "We have a TV show." And she was like, "Oh, OK." That was the first time she was like, "Oh!"
Kardashian's response makes sense. Her family's TV show, Keeping Up With The Kardashians did take the family of seven from minor celebrities to major ones in 2007 when the show first aired on E!. But since then, Kardashian has gotten famous for so much more than being on TV.
Kardashian is a major influencer when it comes to trends and what people put on their bodies, according to People. She's a makeup mogul, with her brand, KKW Beauty, selling out online, according to Allure. Not to mention, she's a super strong mom of three who somehow manages to do it all. Not only this, but she has been outspoken on women's issues and has inspired women to embrace their curves, using her platform to empower women all over the world, according to BuzzFeed. Sure, KUWTK might have introduced the world to the Kardashian name. But in the past 11 years, Kardashian has gotten famous for so much more than that.
Although her response to her daughter really downplays her success, you can't blame Kardashian for wanting to explain her fame in the simplest of terms. While her five year old might not understand the kind of power that her mom has on social media, she probably understands how a TV show can make someone famous (because little kids love TV).
Plus, it's to be assumed that North is pretty aware of the TV cameras being around. North has appeared on KUWTK several times, making her first debut on the show in 2015, according to Us Weekly. In 2016, Kardashian told Billboard that she and her husband, Kanye West had originally planned to keep their kids off the show, But that quickly changed when being a mom became a huge part of her life — and she feels like her kids can handle it. Kardashian said:
Both times when I was pregnant, I'd literally just pray, "I hope my baby can handle this life." I believe their souls choose us to be their parents — they choose this life. That's just my belief.
Although North might be in for a pretty big awakening when she gets older and realizes that her mom is famous for so many other reasons, Kardashian's response will suffice for now.