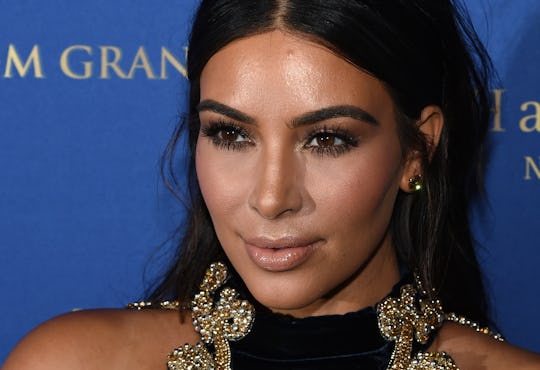 Ethan Miller/Getty Images Entertainment/Getty Images
Kim Kardashian Said North Wouldn't Let Her Breastfeed, & It Was An Honest Mom Moment
Sometimes it's easy to forget that underneath all the designer clothes and makeup Kim Kardashian is a mom just like the rest of us. Kardashian gave us all a little glimpse into the less-glam, mom side of her life on the very last episode of her sister's show, Kocktails With Khloe by sharing some of the struggles she faces while raising her two kids, North, who is 2, and Saint, who is four months old. First, after her sister asked if she was still breastfeeding, Kim explained that she couldn't breastfeed Saint because big sister North simply wouldn't have it.
"North West stopped that for me," Kim said. "First of all, she would cry so much and try to pull him off me."
Then Kim told a story about North putting her milk box on one side of Kim's bra, while Kim was trying to feed Saint on the other side. So cute. But Kim said North eventually had a change of heart and told her mama, "I'm not mad anymore, you can feed baby brother, I won't cry."
Is it just me, or is seeing Kim talk about everyday mom stuff like trying to feed one baby while the other gets mad so totally endearing? This side of Kim is really sweet. Take a look.
In another part of the show, Kim and Kanye sit down with Khloe, John Legend and Chrissy Teigen for a little food and convo, and Kim tells the story about North flushing Kanye's iPhone down the toilet. Not just any iPhone, but the single place where the rapper had written down all of the raps for his album, Life of Pablo.
It's a serious "yikes!" moment that any parent who has ever had a 2-year-old at home can totally relate to. At one point, Kim says she's impressed that Kanye didn't get angry and scream when it happened, but, then again it doesn't look like he's got the energy. It doesn't matter how glamorous Kim and Kanye are, they have the unmistakable look of utter exhaustion all parents with two kids under 2 years old experience.
I mean, look at the picture of these two telling the iPhone story. Kanye is barely holding himself up in the chair. I bet Khloe didn't even have to invite them to tape the show — they just wanted a kid-free place to hang out and have a couple of drinks.
I love these two for the pop culture icons they are, but as parents, Kimye is totally killing it. If you're not OK with being the brink of exhaustion every once in a while, parenting will be quite a surprise. Hang in there you two, it gets easier... sort of.