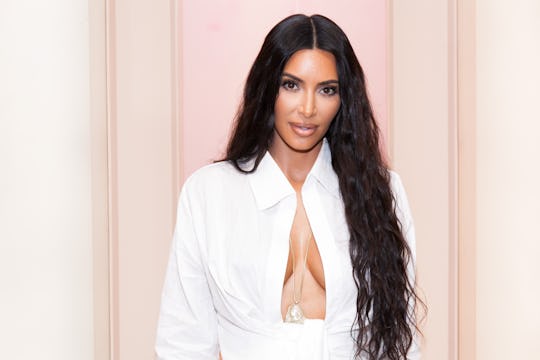 Presley Ann/Getty Images Entertainment/Getty Images
Kim Kardashian Says Her Kids Don't Know She's Famous, & It's So Endearing
The Kardashian family is undoubtably everywhere. From television screens, where people tune in to their family's reality show, Keeping Up With The Kardashians where people tune in to their reality show, to malls where they have clothing lines, to social media where they share photos of themselves with the world day after day. It's really a Kardashian world and everyone else is just living in it. But to the kids of the Kardashians, the people in the family are not that famous — take it from Kim Kardashian. On Thursday, Kim Kardashian said her kids don't know she's famous and it's super endearing to hear how real she is at home.
While Kardashian might be one super famous person, it's nice to know that she is just a mom at home to her three kids with husband, Kanye West — 5-year-old North West, 2-year-old Saint, and 5-month-old Chicago, according to People. In a new interview with ITV's This Morning, Kardashian revealed that her kids could care less about how many Instagram followers that Kardashian has or how many red carpets she has walked, according to People.
"It's pretty intense, but at home I'm not known," Kardashian said. "My kids have no clue what's going on. So I really feel it — I spend most of my time at home."
No matter how glamorous Kardashian might appear, it's assuring to know that she still changes diapers, watches Moana, and has to deal with temper tantrums, fights, and crying babies every single day — just like any other mom.
It's probably a good thing that Kardashian's kids don't know that she's famous — especially since Kardashian has said that she doesn't love dressing up, every day all the time. During an appearance at a conference in February, Kardashian revealed that she doesn't like being famous when she looks bad and wants to "go outside and eat a churro and not have anyone up my a—," Kardashian said, according to People. So it's a good thing that Kardashian's kids don't care what she looks like or eats at home.
But on the other hand, Kardashian revealed that fame has its perks. During the same appearance, Kardashian said that she loves being famous for the things that she gets for free, according to People. "Free trips, free planes, free everything!," Kardashian said. "I do love to share. When I get free stuff, I give it to literally everyone, family, friends."
Although life might have been sweet for Kardashian before having children (even if she still gets the same amount of free stuff), Kardashian has only spoken highly about being a mom. In a recent post on her app and website last month, Kardashian revealed to her followers that being a mom changed her life. Kardashian wrote, according to Us Weekly:
Having kids changed my soul! You learn so much about yourself by being a parent and you care more about the world you are raising your kids in. My parenting style is very loving.
Based on the photos and videos she posts of her children on Snapchat and her Instagram Stories, you can tell that her kids love her just as much in return. But even though Kardashian said that her kids don't know that she's famous, there is evidence that points to the opposite. During an episode of KUWTK, when North West was asked who her favorite rapper was, she had the most perfect response ever — "Kanye West is my dad," North said, according to Refinery 29. So she's pretty aware that Kanye West is (objectively) one the coolest or best rappers around.
While the Kardashian-West kids might be aware how cool their parents are, at the end of the day, Kardashian and West are still "mom" and "dad" to their three children.