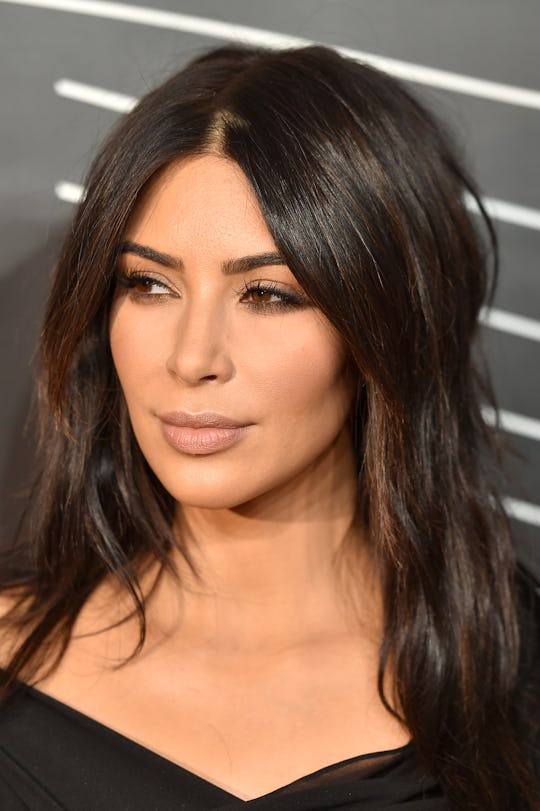 Kim Kardashian Says North Already Steals Her Shoes, Posts Hilarious Instagram Evidence
Whoever said motherhood can't be fun didn't get the message to seasoned fashionista Kim Kardashian. On Monday, Kardashian joked that daughter North was stealing her shoes already in an Instagram post that's sure to get a good laugh from other moms who know all too well the antics of purse-stealing, makeup-wearing toddlers. The Instagram post, which features 3-year-old North donning her mom's thigh-high Balenciaga boots, is accompanied with a message from mom. "Didn't think it would happen so soon...my baby girl stealing my shoes," Kardashian wrote. "At least she has good taste."
In the photo, North is grinning, seeming to approve of the pairing of the metallic knee-highs with her cut-off jean shorts and white tank top. It's clear that she enjoys dressing in mommy's clothes almost as much as mommy does.
The posed Balenciaga shoot isn't North's first foray into the world of fashion. Last year, Kardashian shared a Snapchat of North giving her stuffed toy cat a makeover. In addition to makeup, little North West is reportedly fond of purple purses and blazers paired with tutus. The little tot has also been known to toddle around in fur vests, leather jackets, and jewel-encrusted purses, according to a comprehensive analysis of North's closet at E! News.
Though North has allegedly started down the dark path of stealing shoes from mom, she certainly has enough shoes of her own, too. Before she had turned 2, North was already the proud owner of a pair of sneakers emblazoned with her own name — 'North' on the left foot, 'West' on the right. She has also been spotted in Charlotte Olympia flats and red custom-made Yeezys.
As for the budding fashion maven's future, Kardashian already has plans. According to People, Kardashian has been saving her Met Gala dresses in hopes that North might one day wear one to prom. She even hopes that North's dress-envy will help her eat her vegetables. "Everything I have is for her, and she'll look at it [the dress] and say, 'Can I wear that one day,' and I'm like, 'Yes, you can,' and she'll say, 'Okay, I'm gonna go eat my vegetables, but I'll be back and be big,'" Kardashian told People.
And if eating broccoli means scoring a Met Gala dress, it seems like that would be well worth North's while.