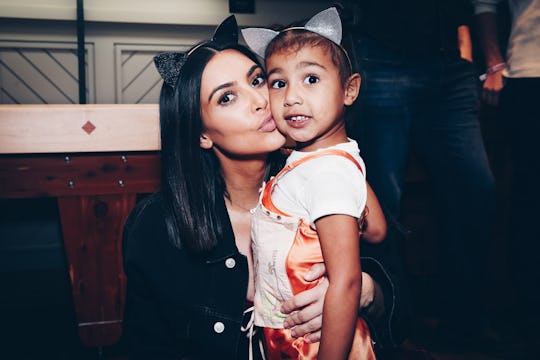 Handout/Getty Images Entertainment/Getty Images
North West's Current Obsession With This Iconic 2000s Movie Will Make You So Nostalgic
From DIY spa treatments during time outs to attempting to do her mom's makeup, Kim Kardashian's 5-year-old daughter North West always seems to be up to something. At the moment, North's flavor of the week is a pretty great choice — and for a hilarious reason. On Monday, Kardashian revealed that North's latest obsession is The Cheetah Girls. O.M.G. Have you figured out the family connection yet?
Kardashian kept fans in the loop on North's obsession by posting to her Instagram Story while they watched the 2003 movie together. "North's newest obsession! #CheetahGirls," Kardashian captioned a video of their TV screen playing The Cheetah Girls. But most importantly, Kardashian tagged Adrienne Bailon (one of the four Cheetah Girls) in the post. "Should I break the news to North that this could of been her Auntie?!?!?!" Kardashian added to the following video clip.
Kardashian is of course referring to Bailon's former relationship with her brother, Rob Kardashian. The two dated from 2007 until 2009, and reportedly broke up after Rob was reportedly unfaithful, according to Entertainment Tonight. During their relationship, Bailon appeared on Keeping Up With the Kardashians and she even got Rob's name tattooed on her butt (don't worry, she had the ink removed in 2014 and documented it on TV), so the actress naturally got to know the Kardashian family pretty well.
Kardashian also posted a third shot from the film to her story, in which Bailon is making a sassy facial expression. Kardashian added a bunch of hearts to the post, showing her former-almost-sister-in-law a little love.
A few hours later, Bailon saw Kardashian's Instagram posts, and shared all three to her own Insta Story with commentary. "Just woke up to this! LOL. This hair style & this outfit!" Bailon added to the first photo, adding the laughing emoji and crying emoji.
Then, next to the post where Kardashian mentioned how Bailon could have been North's aunt, Bailon simply wrote "HYSTERICAL," followed by the same two emoji. I guess the thought of her and Rob having worked out is pretty funny to her, considering she has been married to gospel singer Israel Houghton since 2016, according to People.
It's great to see Bailon and Kardashian getting along, considering they had a bit of public beef back a few years ago. In a 2014 interview with Latina magazine, Bailon opened up about how looking back, she wishes she hadn't agreed to be on Keeping Up With the Kardashians. According to E! News, she told the magazine:
To be stuck with that Kardashian label, that was so hurtful to me and to my career. I probably realized that too late—not that it would've affected my decisions in terms of who I dated, but it would've affected my decision to appear on the show. At the time, I didn't think anyone would even care.
In response, at the time, Kardashian pointed out a little irony. "Funny how she says being with a Kardashian hurt her career yet the only reason she has this article is bc she is talking about a Kardashian," the beauty mogul wrote in 2014.
Khloé Kardashian agreed, tweeting "thought her and I were cool SMH" about Bailon.
Now, four years later, it looks like Bailon and Kardashian have put all that behind them — which worked out very well for North, because it would really be a shame to grow up in a household where The Cheetah Girls is banned.
Congrats to North on having A+ movie taste at just 5 years old, and here's hoping she never finds out that one of the Cheetah Girls was almost her aunt.