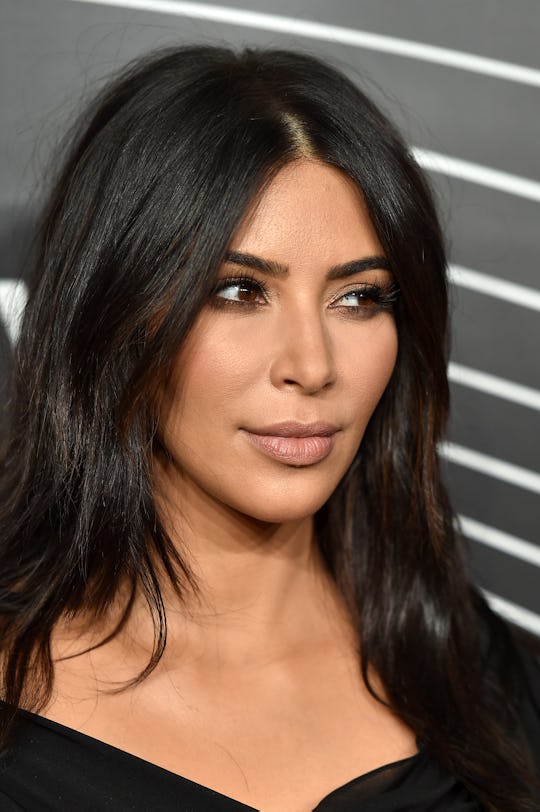 Dimitrios Kambouris/Getty Images Entertainment/Getty Images
Kim Kardashian Says Saint Said Dada,' But He Hasn't Quite Figured Out 'Momma' Yet
Kids do the darnedest things, especially when they go off-script. For example, Kim Kardashian says Saint said "dada" already, but she had planned on hearing "momma" first. Because it really is a race to find which parent an infant truly loves best. Kardashian told People on Friday that, "He said 'dada' today, three times and I was like 'what?' She added, Kanye was so excited. He was like 'I told him to say that.' I was like, 'I just really wanted him to say momma first.'" Kanye beat her to the punch and she doesn't sound very happy about it.
Because she keeps missing the first word. Back in 2014, Us Weekly reported pretty much the same story about her first daughter, North. "Lately North has been saying 'dada' quite a bit, though she has yet to say 'mama,' sources told the magazine when Kim released an Instagram video of North in front of a rose wall (because why not) calling out for "Daddy." So what is Kanye saying to these kids to get them to say the d-word first? I can understand that pain.
Kardashian was very open about her struggles through pregnancy and to breastfeed Saint. That's a lot of work for someone to not know your name yet.
Kardashian has been really honest about her parenting struggles, whether it's getting Saint to say "mom" or making it through her pregnancy. She said last year, that respects the struggle that women go through to get pregnant,"But that doesn't mean I have to lie and say that it's blissful. I find it to be a miserable experience," she said. She's also been open about trying to lose weight after her pregnancy. In Las Vegas on Friday, Kardashian told People that she's at her goal weight after losing 70 lbs. since having Saint.
Kardashian said that her and Kanye encourage each other to work out. And dieting helps, too, she said. "The Atkins diet is so easy to me, because there are so many sweets and treats and stuff to keep you satisfied along the way," Kardashian told reporters before heading to a friend's bachelorette party. Not that anyone — even Kim Kardashian — needs to lose weight after pregnancy, but the way she talks about her Atkins regimen and talks about her weight loss sounds like she's proud of herself for all the work. Because it is a lot of work.
And if Saint isn't going to reward her by saying her name for a Snapchat video, Kim might as well pat herself on the back now and again.