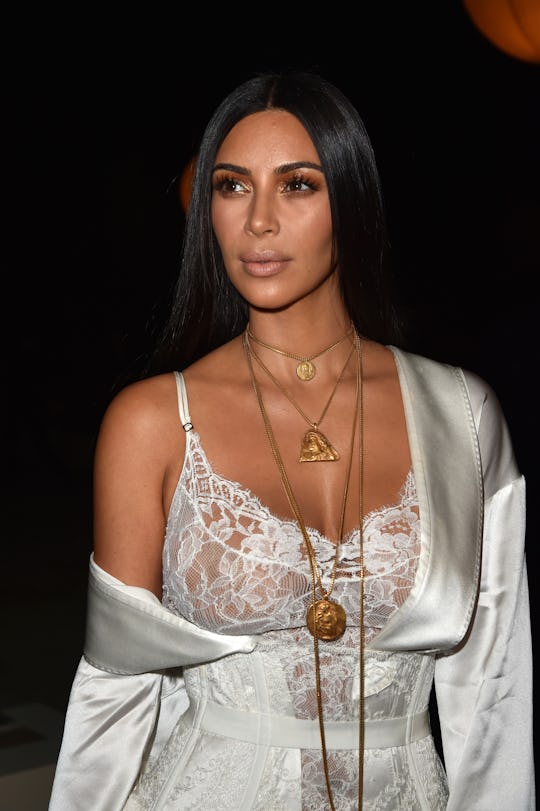 Pascal Le Segretain/Getty Images Entertainment/Getty Images
Kim Kardashian Says She Might Explore Surrogacy For A 3rd Child, In A Super Honest Moment
Pretty much anything Mrs. West does these days makes big headlines. But it's the tease of a new episode of Keeping Up With The Kardashians that has perfectly threaded eyebrows raised everywhere. Kim Kardashian said she might explore surrogacy for a third child in an intense conversation with her momager Kris Jenner. And Kris seems genuinely shocked by the announcement. But is it really that big of a surprise?
First of all, Kim had famously miserable pregnancies both with her 3-year-old daughter North and with Saint, who is just about a year old. While she was pregnant with Saint, Kim wrote on her website, "I'm gonna keep it real: For me, pregnancy is the worst experience of my life! LOL," US Magazine reported. "I don't enjoy one moment of it and I don't understand people who enjoy it."
Besides the discomfort, Kim, a woman known for her sexy, bangin' bod, doesn't seem to enjoy the effects of pregnancy on her figure either. "Maybe it's the swelling, the backaches or just the complete mindf—k of how your body expands and nothing fits," she wrote, US Magazine reported. "I just always feel like I'm not in my own skin."
Kim's certainly not alone. There are plenty of women who find pregnancy to be a total drag.
Just weeks before Kim finally gave birth to Saint, she told Ryan Seacrest on his radio show, according to Cosmopolitan, "I said this last time. I said I am done. Don't ever make me go through that again."
But for today's modern, and very wealthy, woman, that doesn't necessarily mean the end of babies. And as Kim hinted in the promo for the next episode of Keeping Up With The Kardashians, she's ready to explore her options.
"So I've come to the conclusion that I just want to explore surrogacy," Kim tells her mom, Kris Jenner, who seems genuinely shocked by the announcement.
For his part, Kim's husband Kanye West said he wants more kids, she explained on the final episode of her sister's former talk show Kocktails With Khloé. "Kanye has been mentioning it every single day lately for the past 10 days," Kim said according to People.
When Kim said she wasn't excited about the idea of getting pregnant again, it was Khloé who suggested they might think about a surrogate, People reported. Sounds like Kim is warming up to the idea. This could be a pretty interesting story line for future Keeping Up episodes.
Can you imagine being Kim and Kanye's surrogate? She's gonna need her own spinoff.