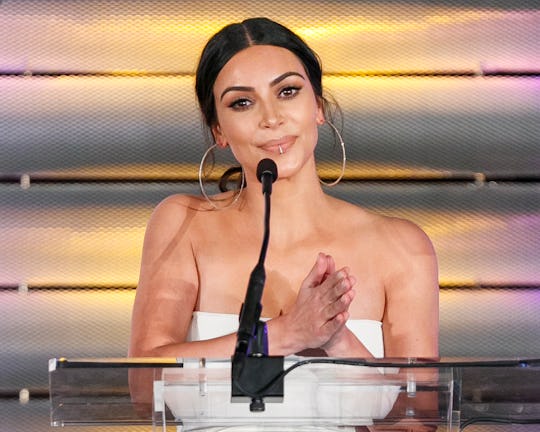 Rich Polk/Getty Images Entertainment/Getty Images
Kim Kardashian Wants To Get Pregnant Again
She may have struggled through two difficult, high-risk pregnancies, but in a promo for an upcoming episode of Keeping Up With The Kardashians Sunday, Kim Kardashian said she wants a third child so that she can give 3-year-old daughter North and 1-year-old son Saint another sibling. The only problem? According to Us Weekly, Kardashian also admitted that her doctors "don't think it's safe" for her to do so. That's because prior to delivering her daughter, Kardashian suffered from preeclampsia, a potentially dangerous pregnancy complication that can cause organ damage and even death, according to the Mayo Clinic. And in an interview with C Magazine while she was pregnant with her son, Kardashian revealed she'd also had placenta accreta, another potentially-fatal condition in which the placenta grows too deeply into the uterine wall.
At the time, Kardashian discussed the difficulty the condition caused in allowing her to get pregnant a second time, and even spoke of the possibility of needing to have her uterus removed after giving birth to her son. But even though her pregnancies brought with them some seriously scary complications, Kardashian admitted that she still longs to expand her family. In the promo clip, Kardashian discussed the possibility of getting pregnant again, according to People, and told her mom and sisters, Kourtney and Khloe, "I'm going to try to have one more baby."
Their reaction wasn't exactly one of excitement — in fact, they all looked pretty shocked – but given what Kim has already gone through in order to have children, it's easy to see why. In the clip, Kim's mom Kris Jenner told her daughter that she was worried about her doing something that would put her in danger, and given Kim's history, it's very possible that she would be. One reason? According to Medscape, once a woman has already experienced placenta accreta, "the risk of recurrence ... during future deliveries is high," and according to the American Congress of Obstetricians and Gynecologists, when women with placenta accreta give birth, they are at a higher risk of requiring a hysterectomy, of hemorrhaging during delivery, and of actually dying.
That's a pretty terrifying reality, but anyone who has ever longed to have another child knows that the thought of not having any more kids when you don't yet feel like your family is complete is scary, too. While Kim's reveal might be the first time that she's publicly discussed wanting to get pregnant again, she has previously mentioned being open to other options, like surrogacy. In November, Kim discussed the possibility with Kourtney during an episode of Keeping Up With The Kardashians, according to E! News, and told her sister that while she does "want to have [her] own baby," she "truly [didn't] know if [her] body can handle it one more time."
If she does end up going the surrogacy route though, the good news is that Kim won't actually have to look very far for someone to carry her child. Shortly after that episode aired, Kim's celeb BFF Chrissy Teigen told Access Hollywood that she "would be her surrogate in a second."
Of course, the decision to have another child can be a complex one for any couple, and if a history of complications has to be considered as well, it can feel totally heart-wrenching. Unfortunately, Kim is one of many, many women who have had to balance their desires for a larger family with the very real risks of being pregnant again, and that means that there are many, many people out there who can relate to how she's feeling. Hopefully, one way or another, Kim will come to a decision that feels right for her and her family. But whatever she decides, one thing that's certain is that she's not alone in her struggle.