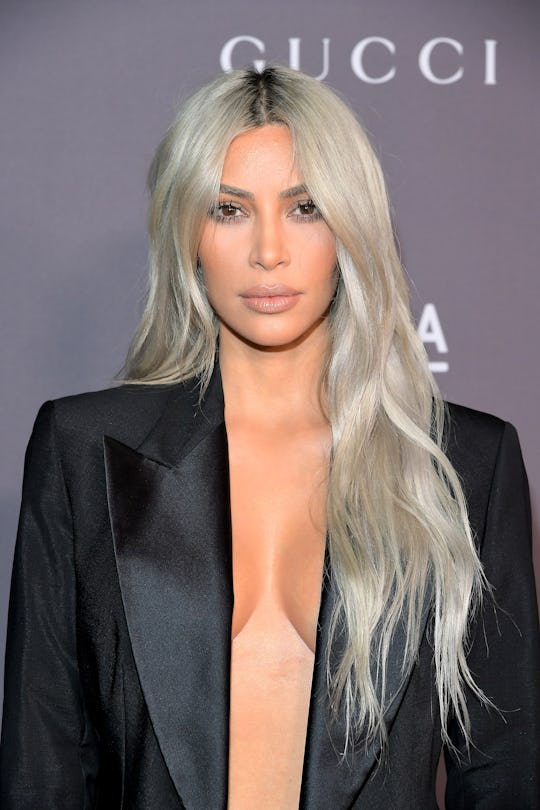 Charley Gallay/Getty Images Entertainment/Getty Images
Kim Kardashian Shared A Sweet Video Of Baby Chicago & It Will Give You Heart Eyes
For a while there, it seemed like photos of Kim Kardashian and Kanye West's youngest child were few and far between. I'm not going to lie — I started to get nervous that baby number three, unlike her older siblings, was going to be following some sort of no-social media policy. Now that baby Chicago is coming up on 3 months old, however, it seems like Kim K is showing off her little cutie left and right. (And I'm sure Keeping Up with the Kardashians fans are totally okay with this change of pace.) On Saturday, Kim Kardashian shared a sweet video of baby Chicago, and just a fair warning: If you're showing even the slightest signs of baby fever, you're going to want to look away now.
Judging from the KKW Beaty mogul's recent Instagram Stories activity, it's been a pretty jam-packed weekend. That's because Kardashian attended her 20-year high school reunion on Friday night, according to E! Online. It looks like the 37-year-old reality star took a night off from the kiddos to attend the Marymount High School (an all-girls Catholic school) class of 1998 reunion. Toward the end of her recent Instagram Story, Kim K also managed to sneak in an adorable moment with baby Chi from Saturday, Us Weekly reported. "Say 'Hi!' Hi, cutie!" the doting mom says to her daughter in the clip. Chicago, meanwhile, can be seen watching her mama while lying on a blanket. Take a look for yourself!
Those tiny, perfect lips! Her wriggly limbs! That unbelievably-soft-looking hair! I swear, I can practically smell the irresistible baby smell through the video. (Wait, is that creepy? You know what, I don't even care.) As if my baby fever wasn't bad enough already, thanks to Kim Kardashian's precious daughter, my ovaries are all like ...
Just for the record, it looks like Kardashian also attended the second birthday party of John Legend and Chrissy Teigen's daughter on Saturday. Because right on the heels of the clip of Chicago was a photo of Abby Cadabby — made mostly of balloons, of course — along with a message wishing Luna "happy birthday."
In other recent cuteness overload news, Kardashian posted this shot of herself, West, and Chicago on Instagram on April 4.
That same day, Kardashian decided to gift her Instagram followers with the first-ever photo of her family of five. (Yep, two Chicago photos in one day!) And let's just say her message hit home with pretty much any parent of three or more kids who has attempted to get a decent family portrait. "I don't think you really understand how hard it is to take a good family pic," the mom of three captioned her Instagram photo, according to People. "This was all we got before all three kids started crying. I think I cried too."
Kardashian later tweeted, "One hand holding the baby and the other hand grabbing the back of Saints shirt because he kept running away lol." Same girl. Same.
And who could forget this aww-worthy sibling shot of Saint giving his baby sister a tender kiss on her nose?
Okay, but seriously. I need to stop following celebrities who are either pregnant or already have babies on social media. Like pronto. Because before you know it, I'm going to have seven children hanging off me and I'll still contemplating having "just one more" of my own. Baby fever is no joke, folks. The "worst" part is, Khloé Kardashian hasn't even released a photo of her newborn daughter yet. Because I have a feeling if the family ever shares a photo of all three of the 2018 Kar-Jenner babies — Chicago, Stormi, and Khloé's baby girl — the internet may actually break (along with all of the ovaries in the world.) And for good.