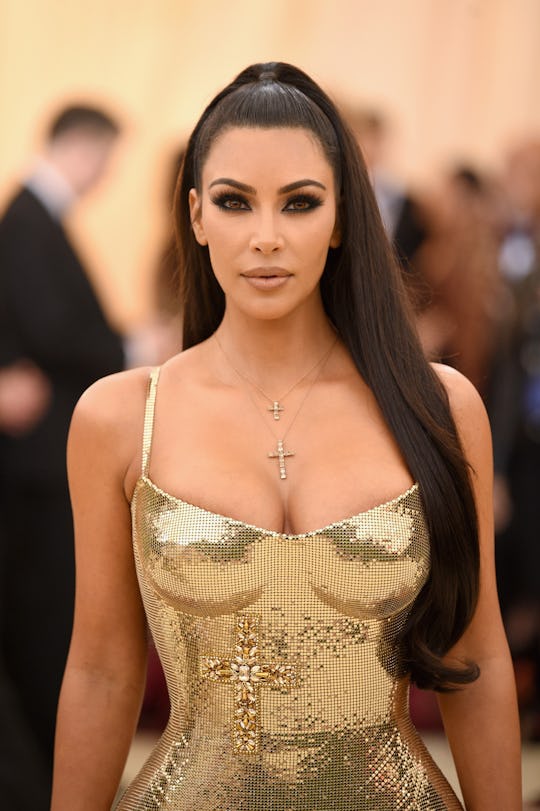 Jason Kempin/Getty Images Entertainment/Getty Images
Kim K Shared A Breathtaking Photo Of Baby Chicago, & Fans Think They're Practically Twins
Kim Kardashian might be famous for well, being famous, but that doesn't mean the woman doesn't know how to hustle. Between juggling her KKW Beauty company, producing content for her apps and social media channels, filming for Keeping Up with the Kardashians, and her various sponsorships, this savvy businesswoman capitalizes on the Kim Kardashian brand at every opportunity she gets. When she's not taking over the world, though, she's a mom to three young children with her husband, Kanye West: North, Saint, and Chicago. Although the bulk of what she shares online showcases to her business and/or rockin' bod, Kardashian does occasionally share personal shots of her family. Well today, Kim Kardashian shared the most beautiful photo of baby Chicago, and her followers are simply smitten.
As a refresher, Chicago was born on Jan. 15 via a gestational carrier, People reported. "Kanye and I are happy to announce the arrival of our healthy, beautiful baby girl," Kardashian West wrote on her app. "We are incredibly grateful for the surrogate who made our dreams come true with the greatest gift one could give and to our wonderful doctors and nurses for their special care. North and Saint are especially thrilled to welcome their baby sister." By my calculations, that puts Chicago at roughly 4 and one-half months old at this point. And she is seriously gorgeous.
Kim K took to Instagram on Tuesday to share the sweet shot of Chi, which doesn't appear to have a filter. "My baby Chi," the doting mom captioned the photo, along with pink heart emojis. Cue: Instagram basically melts from cuteness overload. "WHY IS CHI SO CUTE," one Instagram user commented in all-caps.
Another follower wrote, "She's seriously one of the prettiest babies I've seen in my whole life."
"She looks like a little dolly," yet another Instagram user commented.
Other followers couldn't help but point out how much Kardashian's youngest child seems to resemble her mama. "She's beautiful! Kim she is your twin," one follower declared.
"She looks just like you!" another person commented, along with a field of exclamation points. "She's such a cutie!"
"She looks exactly like you kk," yet another follower commented. "Soooo cute and beautiful."
One Instagram user brought up what I've been saying all along. "I'm dying to see a pic of Chicago, Stormi and True all together @kimkardashian," the follower wrote. Yasss. Make this happen, please!
A week ago, Kardashian posted an equally adorable photo of not one, but two of her children, Marie Claire reported. That time, Kim K shared a sweet moment between her middle child, Saint, and baby Chi. Clad in Mickey Mouse pajamas, the big brother was caught snuggling his little sister, who was wearing a white one-piece outfit. "Sometimes we all need hugs," Kardashian captioned the Instagram photo.
Prior to that, Kim had posted another kid photo of North and Saint bonding in the bathtub, Us Weekly reported, and it captured a lot of attention. Kardashian captioned the photo simply with, "My babies."
Editor's note: The Instagram post has since been removed.
Celebuzz reported that some followers didn't take too kindly to the photo because they deemed it inappropriate. "Beautiful photo. Not social media appropriate though. Some pedos dream," one person commented.
"That is nasty they are too old," another person chimed in.
Yet another follower wrote, "Pedophiles are having a blast."
Ugh, seriously people?
As with pretty much anything the Kar-Jenners do, I guess there will always be that one person who finds something to hate on. Not that it's necessarily fair. (They're just children taking a bath with absolutely nothing inappropriate showing.) But I guess harsh criticism comes with the territory.
For once, though, it seems like Kim Kardashian's newest photo of Chi is eliciting nothing but positivity. And how couldn't it? Those irresistible cheeks! Those perfect lips! Those enviable eyelashes! In today's photo, Chicago West is simply gorgeous.