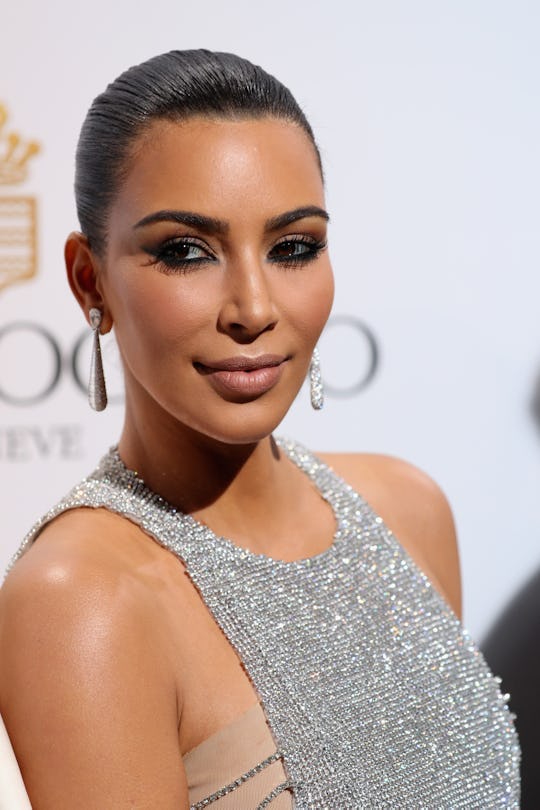 Andreas Rentz/Getty Images Entertainment/Getty Images
Kim Kardashian Shares A Photo Of North's Disney Princess Makeover, & It's The Cutest
Like pretty much every other toddler in the universe, 2-year-old North West is a huge fan of Frozen's Queen Elsa, so during a visit to Disneyland Thursday with her cousin Penelope Disick and bff Ryan Romulus, North got to enjoy the full Disney makeover treatment, transforming into a mini Elsa with a little help from the theme park's Bibbity Bobbity Boutique. According to Us Weekly, Kim Kardashian shared a photo of North's Disney makeover to Twitter and Instagram, showing the little girl and her buds decked out in full princess regalia. While North naturally opted to dress up as Elsa, Penelope chose Aladdin's Princess Jasmine, and Ryan picked the classic option, Cinderella. Penelope's mom Kourtney also joined in on the family-friendly trip, posting her own shots of the adorable trio on Instagram. A source told the magazine that Kourtney's son, Mason, also came along for some Disneyland fun (though it sounds like he opted to skip the makeover).
While it certainly isn't the first time North's been spotted dressed as Elsa, it is the first time she received the official Disney makeover treatment, complete with an outfit, hair styling, makeup, and a requisite Disney princess tiara. And she was clearly thrilled with the result — while Penelope and Ryan look a little unsure in the photo showing off their post-makeover look, North is beaming clearly loving the VIP princess treatment.
But the makeover wasn't just the only highlight of the trip. According to the Daily Mail, Kim posted a number of updates on Snapchat showing the girls checking out Cinderella's castle and meeting the princess in person. Kim also shared a video of her and North riding the King Arthur Carrousel and Dumbo the Flying Elephant after stopping for — what else? — churros (is there anyone who loves churros more than Kim? I think not.).
But amidst all the fun, there was one person not entirely impressed. Kim also posted a clip of her niece and nephew on the carrousel, where 6-year-old Mason looked bored beyond words. "He wants action," Kim explained in the clip, although she definitely didn't feel the same way herself. While riding the carrousel herself, she joked, "I think we're having more fun than they are."
That wasn't all Kim got up to on Snapchat though. According BBC News, on the plane ride home from Disneyland, the mom of two posted a shot of multiple pregnancy tests she'd bought with the caption "panic attack," followed by a post of herself in the bathroom right before taking them. Much to her own relief, the tests came back negative — even though she's said in the past she wants to have a big family, she just gave birth to her son, Saint, six months ago, not to mention that her pregnancies have been incredibly difficult and high risk. Can't say I blame her for being a little leery about getting pregnant again!
Even though Mason might disagree, it definitely seems like the famous fam had a great time at the "happiest place on Earth," leaving only one very important question remaining: do they do these makeovers for adults too?!