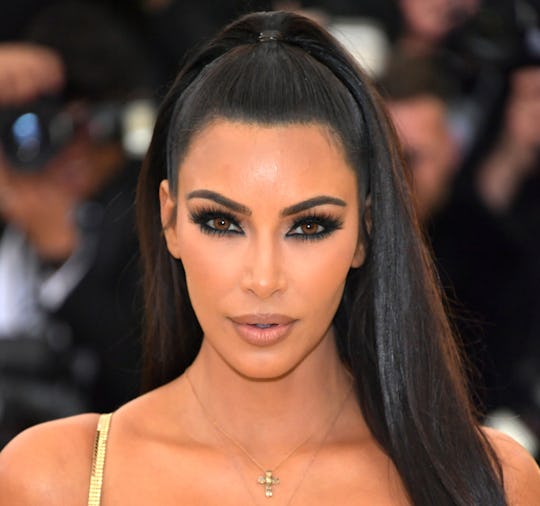 Neilson Barnard/Getty Images Entertainment/Getty Images
Kim K Shares An Adorable Photo Of Chicago & Saint That Will Give You Serious Baby Fever
Say what you want about Kim Kardashian, but I dare you to argue that she isn't a hard-working mom with a lot on her plate. From running her successful KKW Beauty line and her various apps, to promoting sponsored content and keeping her social media accounts regularly updated, Kim K has capitalized on her fame at every opportunity. With that said, the business-savvy reality star/social media guru also prioritizes time for her three kiddos — North, Saint, and Chicago — whom she shares with husband Kanye West. In fact, Kim Kardashian shared an adorable photo of Chicago and Saint that will give you serious baby fever.
On Tuesday morning, Kardashian took to Instagram with a sweet moment between her middle child and youngest child, ET Online reported. In the snap, 4-month-old Chicago is wearing a white bodysuit while being embraced by her smiling big brother, Saint — who is clad in Mickey Mouse pajamas. "Sometimes we all need hugs," Kardashian captioned the post, adding a heart emoji for good measure. Um, is it just me, or did your ovaries (if you have them) also scream with longing for another baby in the house? Because these guys are just too precious.
Me, upon seeing this photo for the first time:
Kardashian's Instagram followers seemed to agree. "They are just the cutest," one person commented.
"Awe so much sweetness!" another Instagram user wrote.
"Aww they're so adorable!" yet another chimed in.
Some even pointed out how much little Chi is looking like her mama. "Chi is your Mini me!!!" one person declared.
"Little baby Chicago looks so much like you @kimkardashian," another person commented.
Another Instagram user — who tagged a friend in her comment — wrote, "Isn't life so ironic, she was so worried she wouldn't feel as connected if she didn't carry herself-and God made that baby come out the spitting image of her. Chicago looks exactly like Kim too cute."
Just four days ago, Kardashian shared another sweet sib photo of two of her children. This time, it was a shot of her older two kids — North, 4, and Saint, 2 — bonding in the bathtub, Us Weekly reported. "My babies," she captioned the snap. However, this photo received some very different reactions than the sibling shot Kardashian shared Tuesday. That's because many of Kim K's followers thought it was highly inappropriate that she shared a nude photo of her young children, She Knows reported.
Editor's Note: The Instagram post has since been deleted.
"I think this inappropriate post for the days that we live in now with all the perverts and pedophiles....think about it..." one Instagram user commented.
"Beautiful kids I just would be careful cause of so many perverts in this world," another person wrote, echoing the same sentiment.
Yet another person straight-up attacked Kardashian for her choce. "Just another display of selfishness," the Instagram user commented. "Putting her vanity before her kids. This broad is simply sickening."
Well, OK then. Aside from the fact that literally nothing questionable is close to showing, I guess it wouldn't be a Kim K social media post without a "healthy" dose of criticism, would it?
Personally, I think the photo is just fine — and I actually love it when Kardashian shares candid insight into her life at home with the kiddos. I especially look forward to new photos of Baby Chicago, which have remained relatively sparse since Kardashian and West welcomed her to the family on Jan. 15, TMZ reported. (Although the frequency has seemed picked up in recent weeks.) Like this sweet shot of the entire family during a flight.
Or this precious Mother's Day tribute.
And who could forget this relatable AF "family photo fail" Kardashian shared at the beginning of April? "I don't think you really understand how hard it is to take a good family pic," the mom of three captioned the shot, TODAY reported. "This was all we got before all three kids started crying. I think I cried too." LOL. As difficult as it was for Kardashian, West, and their three children to pull off this portrait, they're still such a sweet family. (And the photo turned out fairly well, considering.)
If today's Kardashian sibling photo didn't leave you yearning for another baby, I'd like to leave you with one last Saint-Chicago shot from March 31 that will definitely leave you exclaiming, "OMG, my ovaries!"
In the close-up, the adoring big brother can be seen giving his baby sister a tender kiss on her little nose. "He loves her so much," Kardashian wrote in the post's caption. I definitely second this sentiment. Now excuse me, while I attempt to talk myself out of giving into baby fever.