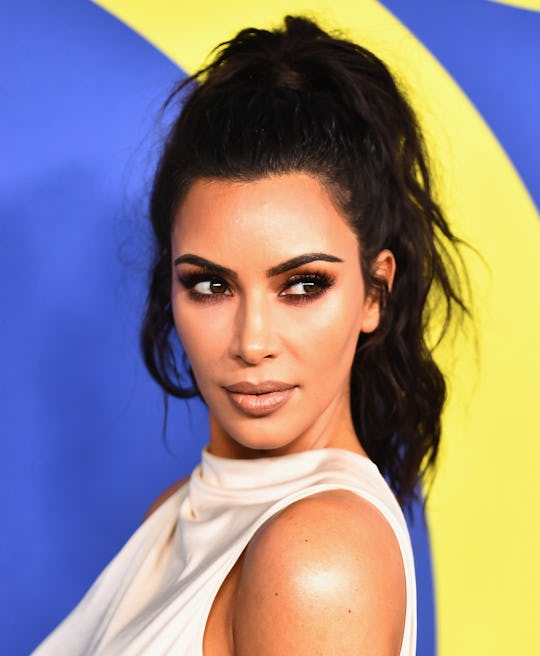 Dimitrios Kambouris/Getty Images Entertainment/Getty Images
Kim Kardashian Opened Up About How She Reacted To Kanye West's Controversial Slavery Comments
Kanye West found himself amid a heated controversy for a comment he made during one of his multiple stream-of-consciousness tweetstorms last month about believing that it's a "choice" to be mentally enslaved. Though the world was predictably outraged and confused by his commentary, those closest to the 40-year-old rapper kept their opinions to themselves, until now that is. For example, Kim Kardashian's reaction to West's slavery comments has recently come to light, and according to a new interview, she revealed that it took a temporary toll on their relationship.
Last month, as CNBC reported, West penned a tweet following an interview with TMZ, in which he reportedly said slavery was a "choice." The tweet read: "When you hear about slavery for 400 years... like, you was there for 400 years and it's all of y'all?! It's like we're mentally in prison."
About a month later West's wife, Kardashian, was asked about those comments and the mention of them on the song "Wouldn't Leave" off his new album, Ye. "Did I cry about it? Did I fight about it? Yeah. That's not stuff we put on social media," Kardashian told Entertainment Tonight on the red carpet of this Monday's 2018 CFDA Fashion Awards. "I'm not going to start tweeting what my thoughts are, but we have those moments."
She added, according to Entertainment Tonight, "That was the one song that he didn't really play for me until the last minute, so I heard that last minute and it meant a lot to me. I really like that song… But yeah, we have different views sometimes, but that's my husband, you know?"
At the same event, she also told Extra how she intially reacted to his new song, "Wouldn't Leave," in which he references drama between them that ensued after the slavery comments dominated headlines. "I cried because it is a lot of what we went through… I know my husband has the best intentions," she said, according to Extra. "He has the biggest heart... I wasn't so calm… I know what he meant so ultimately, after a week, I was calm… I think he explained it well in the song."
"Wouldn't Leave" is a track on West's new album, in which he addresses how Kardashian handled the whole situation. The lyrics explained:
They say, 'Build your own.' I said, 'How, Sway?'/ I said, 'Slavery a choice,' they said, 'How, 'Ye?'/ Just imagine if they caught me on a wild day/ Now I'm on fifty blogs gettin' fifty calls/ My wife callin', screamin', say 'We 'bout to lose it all'/ Had to calm her down 'cause she couldn't breathe/ Told her she could leave me now, but she wouldn't leave.
Similarly, according to TIME, when West made public his support for President Donald Trump, he took to Twitter to share that Kardashian reached out to him and expressed her disapproval. According to TIME, West's original post read:
You don't have to agree with trump but the mob can't make me not love him. We are both dragon energy. He is my brother. I love everyone. I don't agree with everything anyone does. That's what makes us individuals. And we have the right to independent thought."
He followed it up with a post that addressed Kardashian's response, saying: "My wife just called me and she wanted me to make this clear to everyone. I don't agree with everything Trump does. I don't agree 100% with anyone but myself," asThe Standard reported.
It's never been more clear that no matter what drama is going down, the West family sticks together for better or for worse. In a March interview with ELLE, Kardashian said that she and her husband balance one another. "He's taught me to have more of an opinion," she told the publication. "I've taught him to be a bit more calm or cautious. We're a good balance."
West has echoed that same sentiment, as he shared in a 2013 interview with Hot 97. "I felt like when we first got together, it was like a Romeo and Juliet kinda thing where it's like she's a reality star and I'm a rapper..."
It is almost refreshing to learn that not only is Kardashian and West's marriage "normal" in that they do clash opinions and, well, argue like anyone else does, but that they also stand firmly by one another, even in the midst of their most eyebrow-raising controversies. It may not be completely relatable, but it's eye-opening to say the least.