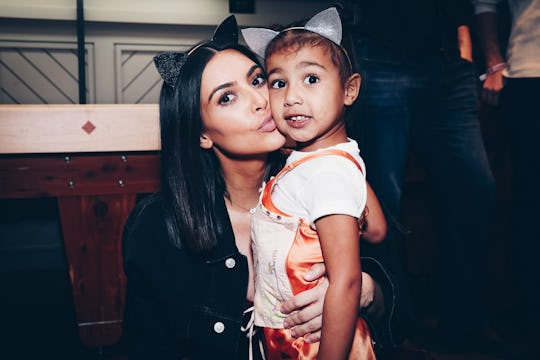 Handout/Getty Images Entertainment/Getty Images
Kim K Shares The Stories Behind Sweet Family Photos
After the queen of social media officially hit 100 million followers on Instagram this week, Kim Kardashian West shared the stories behind her family photos — including some of her sweetest and most-liked posts on the site — to celebrate the special milestone. On Thursday, the reality star selected five precious photos that feature herself as well as husband Kanye West, 3-year-old daughter North, and 1-year-old son Saint and shared a brief background about why she's so fond of them.
"I can't believe I've reached 100 million followers on Instagram, thanks to you guys!!!" the mom of two wrote on her website. "To celebrate, I wanted to take a look back at my most-liked posts. I appreciate my fans (and family) more than you know. You guys are the best!"
While Kardashian was MIA from social media for months following a harrowing incident in Paris last October — when she was held up at gunpoint while robbers stole millions of dollars' worth of jewelry from her hotel room — the reality star has been steadily returning to her open self on Instagram and fans are delighted to have this side of her back.
Back in March, for instance, she acknowledged on Twitter that she'd been rather quiet as she dealt with the terrifying dilemma and assured fans that she wouldn't be holding back for much longer.
And what better way to thank her 100 million fans and followers than to share the personal stories behind some of her sweetest family photos? The first story she shared was a photo of all four of them from this past Easter, in which she emphasized the importance of family.
"This pic was taken in April when we had Easter at our house," she wrote, sharing the photo above. "Family is everything to me."
The next post was also a family photo, which she posted back in January — the first time she'd posted on social media since the Paris incident.
"This was the first photo I posted on Instagram after taking a few months off from social media," she captioned the photo of her holding Saint while standing next to her husband and North. "I wanted to spend as much quality time with my family as possible."
The following photo is a sweet candid shot of Kardashian and Saint — which she simply captioned "my son" with a black heart emoji — from January as well.
"Saint is the sweetest boy. He never cries or fusses. I love watching him grow up," the 36-year-old mom wrote of her little boy.
She gushed about little Saint again in another photo of only him, sleeping and stretching his arms, that she shared on her website in February 2016.
The final post on which she shared a bit of insight was a shot of the whole family walking together in New York, which she originally posted last August.
"This picture was taken when Kanye was on tour and we all met in New York," Kardashian wrote. "It's always so special to be together — especially when our schedules can be so busy."
This sweet photo collage was certainly a special way to celebrate her social media milestone as well as a nice reminder that the Kim K we know and love is back in business.