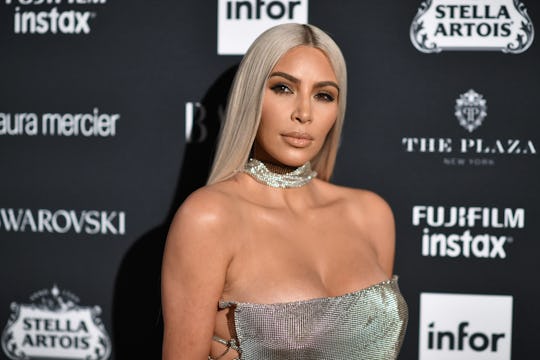 Dimitrios Kambouris/Getty Images Entertainment/Getty Images
Kim K Epically Claps Back At Rumors That She Resents Kylie's Pregnancy
As transparent as many celebrities are these days, a lot of publications continue to rely on anonymous sources to get their information about the latest gossip. Take, for example, the Kardashian-Jenner family. While pretty much everyone in the family has been very open about their personal lives, some topics aren't discussed as freely or often. And while news broke last week that Kylie Jenner is reportedly pregnant with her first child, it has yet to be confirmed by the 20-year-old reality star herself. Another piece of gossip about the family? That one of Jenner's sisters was less than thrilled about the news. Well, Kim Kardashian has shut down reports that she wasn't happy about Jenner's pregnancy, and all it took was one simple tweet.
Originally, an anonymous source revealed to People that Kardashian wasn't very excited about her little sister's pregnancy at first. "Her first reaction was, 'Seriously?'" the source told the magazine. The source then went on to describe Kardashian being shocked and upset to the point of tears.
After this initial story, Harper's Bazaar took the source's quotes and wrote about Kardashian's supposed reaction yet again. But this time, Kardashian wasn't having it. "This sounds like a very fake story," she tweeted, along with a link to the Harper's Bazaar article on Tuesday morning.
Clearly, Kardashian is not here for anonymous sources acting like they have any idea what she is thinking or feeling. And good for her. It must be exhausting fielding paparazzi all day only to come home and read multiple stories about you that might not have any truth to them at all.
To clarify, this is what the source told People:
She didn't respond well at first. It's like she and Kanye had gone on this whole journey to get pregnant for months, and now this happens to Kylie. She teared up. It definitely took a lot of time for her to process it.
Of course, if that were true, Kardashian is within her right to have any reaction to the news. And if it was indeed one of shock or frustration, yeah that would still be totally understandable and OK. Kardashian has been pretty honest about the struggles she went through during both of her pregnancies.
Kardashian was diagnosed with preeclampsia while pregnant with her daughter North, as well as placenta accreta, a "high-risk condition that happens when the placenta grows too deeply into the uterine wall," she wrote on her blog. Now, it has been reported that Kardashian and West have hired a surrogate to carry their third child, although details of this report have yet to be confirmed by the family, according to People.
What has been confirmed, though, is that Kardashian doesn't just find reports about her reaction to Jenner's pregnancy unsettling. The reality star and business mogul also tweeted her frustration at publications getting "fake" quotes from Caitlyn Jenner.
"And speaking of fake stories... The media is super shady for posting fake quotes from Caitlyn when she hasn't spoke to anyone," Kardashian tweeted on Tuesday.
Kardashian's claim that Caitlyn Jenner hasn't spoken to anyone about her youngest sister's pregnancy seems to be aimed at multiple stories who are quoting her rep, saying that she was told about her daughter's pregnancy "some time ago," according to The Daily Mail. Obviously, Kardashian has just about had it with all the rumors and gossip surrounding her family at the moment. And truly, until Jenner herself confirms or denies the pregnancy, what is there to talk about? Well, according to that anonymous source who spoke to People:
Of course Kim is happy for Kylie. She's going to support Kylie 100 percent, no matter what. There's never been any question about that. But it's just a weird dynamic, after all that Kim did to intentionally have another child. It has taken a lot of time, energy and money for her to get pregnant, and now Kylie is having a baby around the same time.
Whatever the case, though, it really isn't anyone's business other than their own and props to Kardashian for setting the record straight. In the meantime, fans will just have to wait patiently until Jenner herself decides to break her silence.
Watch Romper's new video series, Romper's Doula Diaries:
Check out the entire Romper's Doula Diaries series and other videos on Facebook and the Bustle app across Apple TV, Roku, and Amazon Fire TV.