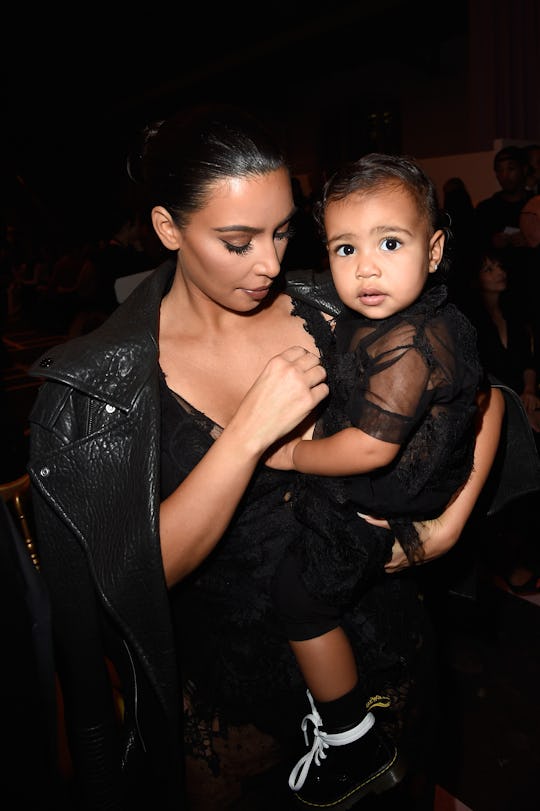 Pascal Le Segretain/Getty Images Entertainment/Getty Images
Kim Kardashian Snapchatted North's Workout & It's Basically All Of Us at the Gym
Think you are the only one who has a hard time focusing at the gym? Don't worry, you aren't alone. Kim Kardashian Snapchatted video of North West working out, and the whole moment is pretty epic (and insanely cute).
Kardashian is clearly loving Snapchat, the most recent social media platform the mega-star has joined. On Saturday, the 35-year-old reality star posted a video of her baby girl dressed in a red-and-white dress, playing by herself by hanging from a bar attached the bottom of a desk.
"That's a tough workout," the Keeping Up With the Kardashians star wrote and can be heard saying in the clip. See, you aren't the only one who isn't a fan of the gym. How does one get a workout buddy that adorable?
That specific Snapchat video was very Kardashian-esque. It featured cute red heart graphics, a typed text overlay that read, "She thinks it's Valentine's Day EVERYDAY!!!!!" and the words "I'm not kidding" written in red with Snapchat's drawing pen tool.
Kim just joined the wonderful world of Snapchat earlier this week, which is a bit of a surprise considering she's basically the social media queen when it comes to Facebook, Instagram, and Twitter. She is the third Keeping Up With the Kardashians star to have a public account, following her siblings Kylie Jenner and Rob Kardashian.
Kardashian's baby's workout isn't the only snap the reality star has recently shared with her millions of fans. One of her recent videos had showed her talking to her little girl, who apparently isn't like her mother when it comes to social media, and says she is afraid of Snapchat.
"Why?" Kardashian asks her daughter, then says, "Oh the filters with the crazy faces." Just check out the crazy-face photo Kardashian shared on Snapchat. Holy scary!
This isn't the only personal thing Kardashian has shared on social media this week. She also posted the second photo of her and her husband Kanye West's son Saint West on Instagram. This one follows his debut to the world just a few weeks ago. He was born back in December. Of course he looks a lot like his big sister.
Seriously, though...how cute is this little family? Hurray for getting to see even more of them now that Kim's on Snapchat.