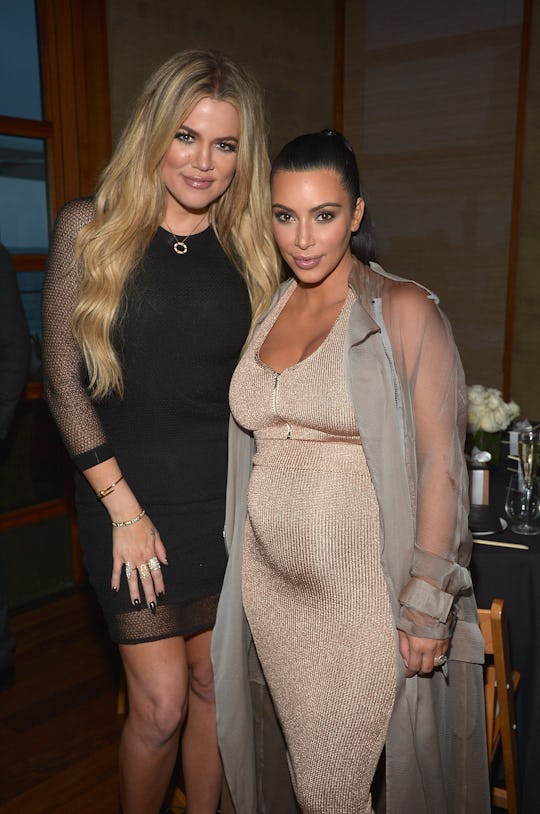 Charley Gallay/Getty Images Entertainment/Getty Images
Kim Kardashian Speaks Out About The Tristan Thompson Cheating Rumors For The First Time
It's no surprise that Khloé Kardashian's super loyal family members would be completely in her corner in the midst of recent rumors that her boyfriend, Tristan Thompson, was caught allegedly cheating on her while she was pregnant with their daughter. So it's not a shock that Kim Kardashian spoke out about the Tristan Thompson cheating rumors, and that she and the rest of the KarJenner camp are being so supportive of the new mom. In an interview on The Ellen DeGeneres show screened on Monday but that may have been taped about a week ago, Kim didn't even have the words to describe the situation with her sister, but she made it clear how heartbreaking the whole thing is.
Thompson's and Kardashian's reps didn't immediately respond to Romper's request for comment about the allegations.
"Like I don't even know how to describe it besides it's just so f*cked up," Kim reportedly said of the situation, in about as blunt a manner as you'd expect. But she wouldn't go into the details too much, because she is worried her new baby niece, True, may read her comments one day. That's a smart — not to mention kind — move on her part, but Kim definitely made it clear she wasn't happy about the situation nonetheless.
Thompson was allegedly seen kissing another woman in the days leading up to Khloé's delivery, according to The Daily Mail. While nothing has been officially confirmed, the fact that Kim talked about any sort of alleged infidelity on Ellen's show implies that something must have happened to make her speak out like that.
In the same interview, Kim reportedly told Ellen that Khloé is "doing the best that she can," which is all that can really be expected of her if any part of the rumors are true — or, even if they aren't, just coping with all the press can't be easy. Khloé did just have a baby, after all, and any sort of added stress is probably a lot to have to deal with right now — even if that stress is just from rumors that have been blown out of proportion. Kim also told Ellen, according to The Daily Mail:
We really were rooting for Khloé and we still are.
And she later added:
It's a really sad situation all over.
So she made it clear that whatever happened, the Kardashian/Jenner family is totally supportive of Khloé. Whether or not you like the Kardashians, you've gotta admit — they're a loyal bunch.
But Kim wasn't about to give Ellen all the details. She reportedly also declined to comment much further about the situation out of respect for her niece, True. She told Ellen, according to Us Weekly:
I kind of made this rule, with my brother … If there's a baby involved, I'm going to, like, keep it cute, keep it classy … Because one day True is going to see this and you know, it's just so messed up.
Kim seemed to be referring to a time she was questioned about her brother Rob Kardashian's ex-fiancée, Blac Chyna, by Jennifer Lawrence, when she also decided to be "super respectful" and not delve into the topic too deeply for another niece's sake. At the time, Kim said of the situation, according to People:
I always said when someone was going to ask me, you know, Dream is going to see this one day...So I think it's just super respectful to not say anything about my niece's mom.
So this seems to be a pattern for Kim, and a pretty classy one at that.
We won't know for sure everything Kim said during her appearance on The Ellen DeGeneres Show until the entire episode airs. But that sneak peek alone has people talking, for better or worse.
I have a feeling we'll know a lot more about the Khloé/Thompson situation soon, whether the updates come from Kim or someone else. Fans are dying to know how Khloé is doing, after all, and to hear all about True. It just remains to be seen how much Thompson is still a part of that picture, and what all the Kardashians think of exactly what went down.