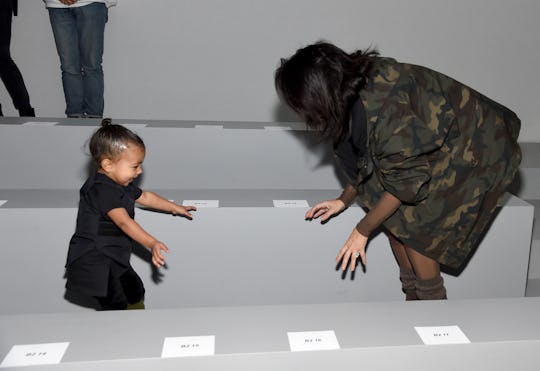 Dimitrios Kambouris/Getty Images Entertainment/Getty Images
Kim Kardashian Thinks North Would Be A Better President Than Donald Trump
If you haven't been too pleased with President Donald Trump's actions in the last few months, you're far from alone. In fact, in a recent interview with Harper's Bazaar Arabia, Kim Kardashian even joked that her 4-year-old daughter, North West, would be a better president than Trump. And you know what, Kim K? I'm totally with you.
The Keeping Up With the Kardashians star made the comment, funnily enough, while talking about censoring herself on social media. "You have to be really careful about what you say, because a lot of things can be taken in the wrong context and I always want to be respectful, I don't want to hurt anyone's feelings," the mom of two told Harper's Bazaar. But then, when asked about who should be running things in the Oval Office, Kardashian definitely didn't hold back, quipping:
Not the President now. Anyone can run the U.S. better. My daughter would be better.
Kardashian didn't stop there, either. "We've worked so hard to get to where we were and to have so many things that we were so proud of in our country, to just literally revert backwards is the most frustrating thing," she told the magazine. "It's really scary, the world that we're living in now. And when you did feel safe at home, now with Trump in presidency you just don't feel safe any more."
Talk about putting Trump on blast. This is likely the most politically vocal Kardashian has been since before the election, when she wrote on her website:
Without a doubt, I stand with Hillary. I'm with her. I believe Hillary will best represent our country and is the most qualified for the job. This year, I'm not just voting for myself, but also for my children, and I took that into careful consideration when I made my decision.
That's not to say Kardashian hasn't shared her opinion on Trump since then. On Twitter, she's called out his transgender military ban (as "simply wrong") and shared stats that countered Trump's reasoning for his temporary travel ban. She's also tweeted in defense of Planned Parenthood, as well as the Affordable Care Act, making it clear where her political loyalties lie.
Over the last year, Kardashian has gotten a lot of flack from women for issues that haven't necessarily been within her control, such as Caitlyn Jenner and Kanye West's early support of Trump. She can't control the political preferences of her husband or parent, but she's continued to speak out in support of what's right — and that should definitely be applauded.
Keep up the good work, Kardashian. In the meantime, anyone want to start a #NorthWest2020 campaign?