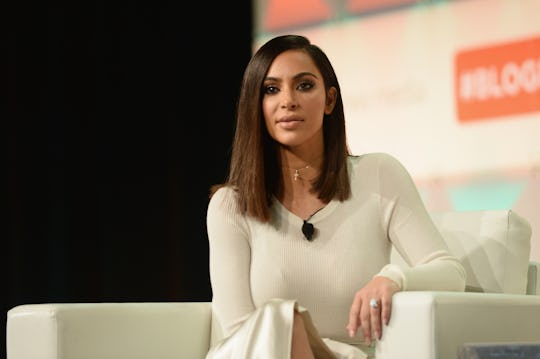 Matt Winkelmeyer/Getty Images Entertainment/Getty Images
New Kim Kardashian Robbery Details Emerge
French newspaper Le Monde this week obtained a transcript from Kim Kardashian's Feb. 2 testimony to a judge and attorneys in New York City, concerning her Paris robbery. The reality star answered questions about the armed robbery, as well as helped identify the men who allegedly carried out the attack. As Us Weekly reported, according to the transcript, Kardashian thought the robbers were "terrorists" trying to kidnap her.
The transcript shows Kardashian's reaction, as well as the terrifying events of the night, in great detail. Kardashian revealed that she first heard a commotion downstairs in her Paris apartment, which she believed to be her older sister Kourtney Kardashian and her assistant Stephanie Sheppard. The pair had gone out to a club the night of the Oct. 3 and Kardashian believed the two had arrived home when she heard the noise. She quickly realized something wasn't right, however, after she called out in greeting and got no response. "Then I saw two guys in police uniform come in with the concierge. They were aggressive," Kardashian described, going on to say her initial reaction to them was that she "thought they were terrorists who had come to kidnap me… I remember that I had an indescribable feeling, as if my heart would leave my body. I thought I was going to die."
Kardashian recounted that she'd been having concerns prior to the trip as well. According to the transcript, Kardashian said that "for two weeks before we left, we were already afraid we might be victims of a terrorist attack if we left the country, and not only by going to Paris." Europe has indeed faced a series of heartbreaking terrorist attacks in recent years, including the devastating coordinated attacks in Paris in 2015. Kardashian isn't the only American tourist with newfound fears of traveling abroad, either. According to U.S. News & World Report, Europe's tourism industry saw a drop in 2016 as a result of the terrorist attacks.
Kardashian's attackers, though, were not terrorists attempting the kidnap her. The terrifying incident was allegedly carried out in order to steal expensive jewelry from the business mogul. The perpetrators were able to get away with an estimated $10 million worth of jewelry, according to Us Weekly, after binding and gagging Kardashian. Since the robbery, which took place on Oct. 3, 17 people have been arrested and 6 have charged in relation to the crime. One of Kardashian's drivers while in Paris was also charged.
This transcript definitely gives us a closer look at what happened to Kardashian on the night of Oct. 3, however, she hasn't yet addressed the incident publicly. She does plan on opening up more about the robbery on Sunday's episode of Keeping Up With The Kardashians. The previews show Kardashian getting extremely emotional while discussing the robbery with her sisters, so perhaps even more details about the incident will emerge at that time.
It's impossible to imagine what Kardashian went through that night. Fans are right to be glad that she's safe and doing well after such a traumatizing experience.