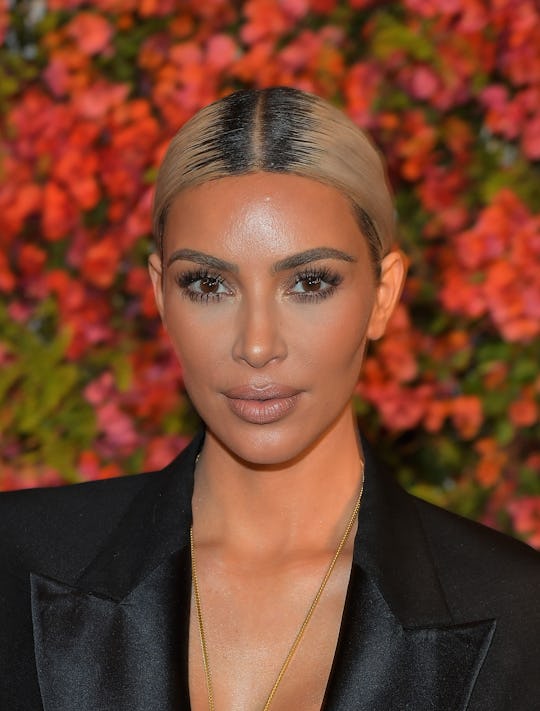 Charley Gallay/Getty Images Entertainment/Getty Images
Kim Kardashian Tweets About Chi & Fans Can't Get Enough
Fans of Keeping Up with the Kardashians were over the moon for Kim Kardashian and Kanye West when they announced the arrival of their third child back in January. A few days later, Kardashian announced her baby girl's name: Chicago West! And the world got its first (and unexpected) glimpse of baby Chi during Kylie Jenner's 11-minute video of her pregnancy journey. Since then, however, the new parents have been unusually quiet about the littlest West child ... until today. That's because Kim Kardashian tweeted about Chi & fans can't get enough.
On Saturday afternoon, one of Kardashian's Twitter followers spoke up about the lack of deets on baby Chicago, writing, "Sis how is Chi doing?? We need weekly updates." Kardashian could have easily ignored this direct request for info on her youngest daughter. However, less than 30 minutes later, the KKW Beauty mogul likely floored this fan by replying, "The sweetest! Best baby! She looks a tiny bit like North and a tiny bit like Saint but definitely her own person!" (Awww.) I love how interactive the Kardashians are with their social media followers; obviously, Kim was in no way obligated to acknowledge a follower demanding the status of her newborn. But I'm still kinda glad she did.
Even with this tidbit of info on the disposition of baby Chi, followers obviously want more. Because basically, the mom of three was showered with a million follow-up questions. (You know, as if she doesn't get this all day from her preschooler and toddler.)
With so many unanswered questions about Chicago West, let's take a look back at what we do know about Kim K and Kayne West's newest addition. As Kardashian shared on her app, her third child was born on Jan. 15 via a gestational carrier, and she weighed in at 7 pounds, 6 ounces. "Kanye and I are happy to announce the arrival of our healthy, beautiful baby girl," Kardashian West wrote, according to People. She continued:
We are incredibly grateful to our surrogate who made our dreams come true with the greatest gift one could give and to our wonderful doctors and nurses for their special care. North and Saint are especially thrilled to welcome their baby sister.
Three days later, Kim K broke the internet (yet again) by announcing her newborn daughter's name, E! Online reported.
Shortly after this big announcement, Kardashian followed up with another tweet, revealing her baby girl's nickname. "North, Saint & Chi," she wrote.
Proud aunt, Khloé Kardashian, chimed into the conversation to clarify how Chicago's nickname was pronounced. (Spoiler alert: It's not like a chai latte, nor is it like a Chia Pet.)
Another piece of the name puzzle was solved when Chicago's birth certificate was officially released. As TMZ reported — and as many avid KUWTK fans suspected — West baby number three does not have a middle name. Chi has this in common with her two older siblings, North and Saint.
The only major detail Kardashian has yet to share about her newborn is a photograph. Although, fans did catch a brief glimpse of Chi in Kylie Jenner's intimate video of her pregnancy that was posted on Feb. 4, E! Online reported. Still, if you blinked, you might have missed it altogether.
As evident by the comments on Kim's recent tweet, it's clear fans are practically foaming at the mouth to get a clear, non-profile shot of baby Chicago.
Unfortunately for Kim K's Twitter followers, the Kardashians are known to strategically release important info/photos on their own timeline. So it looks like we'll just have to wait and see when the mom of three decides to finally share her baby girl's first photo. Who knows? Maybe the big day will come after Khloé Kardashian delivers her baby this spring — and we'll get a photo of three Kardashian cousins? That would be cuteness overload, for sure.