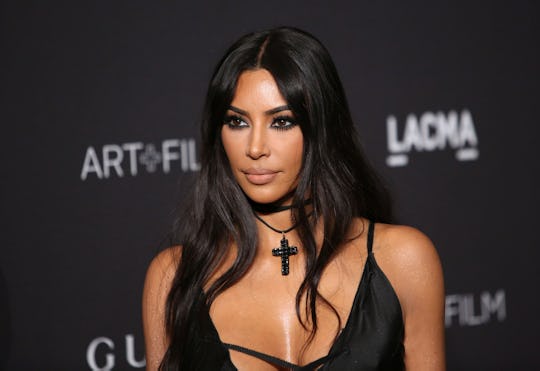 Jesse Grant/Getty Images Entertainment/Getty Images
Kim Kardashian's Family Just Had To Evacuate Their Home For This Scary Reason
2018 hasn't exactly been an easy year for natural disasters in the United States. While Hurricanes Florence and Michael walloped Florida and the Carolinas, causing dozens of deaths and billions of dollars in damage, California has also battled some of the biggest wildfires in its history this year. On Thursday, the latest batch of fires broke out in the state, including the Woolsey Fire that quickly spread throughout Los Angeles and Ventura counties, according to E! News, and on Thursday night, Kim Kardashian was forced to evacuate her home as the blaze threatened homes in Hidden Hills, Calabasas and surrounding areas.
The Keeping Up With The Kardashians star shared footage of the flames taken from her phone on Instagram while flying on her private plane, and explained that she learned upon landing that she only had one hour to return home before having to evacuate. The Woolsey Fire is one of three fires currently causing destruction in the state, according to CNN, and it spread so rapidly that from Thursday afternoon to early Friday morning, it had already burned about 8,000 acres. Late Thursday evening, the City of Calabasas shared the Los Angeles County Fire Department's evacuation orders on Twitter, which covered an area north of the 101 freeway, though later, the fire department updated the order as the blaze burned south of the 101, and urged residents to leave the area "immediately," due to the "imminent threat."
Kim wasn't the only Kardashian forced out of her home because of the flames though: on Instagram, Kourtney Kardashian revealed she too was required to evacuate, and was staying at Kendall Jenner's home with her children while Jenner was in New York City, according to People.
Khloé Kardashian also took to social media to comment on the blaze, and shared that she and her daughter, True, were with her brother, Rob Kardashian, and his daughter, Dream, and that they were "keeping watch" for updates. Khloé also sent prayers to the firefighters working tirelessly to attempt to contain the flames, but added in a separate tweet soon after that she "couldn't sleep" because the fires were making her "too nervous."
Elsewhere on Twitter, users were using the #WoolseyFire hashtag to provide updated information, and put out calls for assistance, including for help evacuating horses and other animals from farms in the area. Yet, if the fire on its own weren't already bad enough, others noted that the destruction of the Woolsey and nearby Hill fires was coming only a day after the mass shooting at the Borderline Bar and Grill in Thousand Oaks that killed 12 people, and that many who had just lost loved ones were now being forced to flee their homes.
Dry conditions and extreme winds have helped fuel the rapidly-spreading blaze, according to The Los Angeles Times, and dozens of homes are thought to have been destroyed. Roughly 88,000 homes have now been evacuated, and no fatalities have been reported, though the fire has yet to be contained, and is continuing to spread towards the Pacific Ocean. In Paradise, California though, where the Camp Fire has spread even faster than the Woolsey and Hill fires — at a mind-boggling rate of about 80 football fields per minute, according to CNN — at least five people have been confirmed to have died as of Friday afternoon.
It's hard to even fathom the kind of stress and uncertainty many Californians are experiencing right now due to the raging wildfires, and the speed at which they are continuing to burn suggests there may not be much relief coming anytime soon. But hopefully those who have been forced to leave their homes — including celebs like the Kardashians — will be able to find shelter, and that everyone in the path of the fire will heed the evacuation warnings if they haven't already done so.