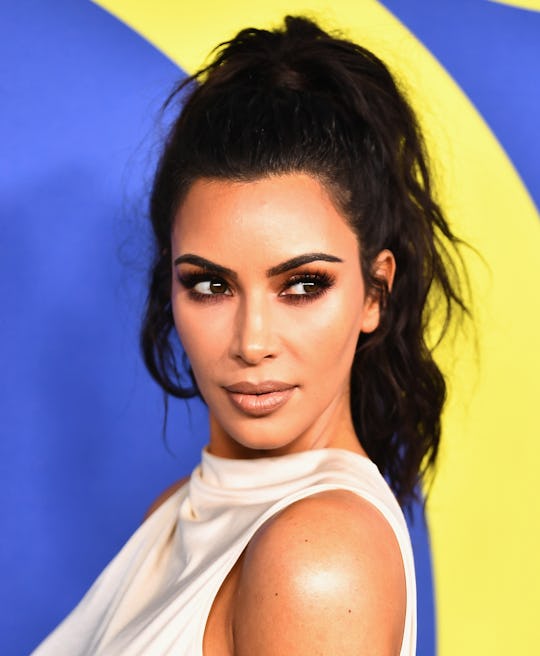 Dimitrios Kambouris/Getty Images Entertainment/Getty Images
Kim Kardashian Posted The Sweetest Birthday Message To North, & It's Totally Relatable
Kim Kardashian West often posts about her three kids on social media. But when Kim Kardashian West posted the sweetest birthday message for her daughter on Instagram on Friday, it may have been one of the most adorable takes she's shared with her followers yet. Her daughter, North West, turned 5 on Friday, and her mama's birthday message is both sweet and probably a little bit funny to other parents who have several kids.
In the Instagram post celebrating her daughter's birthday, Kim wrote, "My baby girl turns 5 today. Never did I think back then that I would have my best friend for life! I'm so honored to be your mom Northie!"
And how sweet is it that Kim calls her daughter Northie?
Kim added, according to the Instagram caption on her post:
You have brought more joy into my world than I ever could have imagined. I can't believe your so big now! The luckiest girl in the world to be best friends with your cousins and have the most magical parties together! I love you so much birthday girl!
But then Kim ended with a conclusion that a lot of parents who have more than one child can probably relate to. She wrote:
P.S. Now that you're 5, don't you think it's the mature thing to try to be nice to your brother now!?!
As a big sister to a little brother, I completely understand why North might sometimes be reluctant to be a perfect angel with her sibling. It's pretty funny that Kim "called out" North in such a way, and it makes me wonder if the little girl was naughty to her younger siblings at all at her recent birthday party with cousin Penelope Disick.
Kim has two other children with her husband, rapper Kanye West. Their youngest is Chicago, who was born on Jan. 15, according to PEOPLE. The middle child is Saint, who is 2, and he's apparently the one that gets the brunt of it when North isn't being "nice," if Kim's Instagram caption is to be believed.
Kim seems completely open to sharing some of her kids' lives with her social media fans and followers. She regularly shares photos of her children with the world — whether they're alone in the pictures, with her, or together in a cute family shot.
But the photo Kim shared of North on Friday is one of the most heartfelt shout-outs to one of her kids yet.
Kim also shared a photo of North and Penelope on a rainbow pool float on Wednesday, and the caption indicated that it was from a "unicorn party" the two shared, which was probably their joint birthday party.
Penelope's birthday isn't until July, but the two are very close in age (Penelope is still 5 for a few more weeks). Plus, their birthdays are so close together that it definitely makes sense to me that they shared an awesome unicorn party.
Grandma Kris Jenner also shared a message to North on Instagram, according to TODAY. Jenner wrote on her granddaughter's birthday post:
Happy birthday to our sweet angel North!! I can't believe you are 5 today! I love you so much, you are the greatest blessing, and it brings me so much joy to watch you grow into such a beautiful, fun-loving, spirited, kind, smart and funny little lady! ❤️ Love, Lovey #HappyBirthdayNorth 🎂🎈
Jenner has nine grandchildren in all, according to Insider. In addition to Penelope, Jenner's daughter Kourtney Kardashian also has two sons — Mason Dash and Reign Aston. Her daughter Khloé has one daughter, True, and Jenner has a granddaughter named Stormi as well — she's Kylie Jenner's only child. Her son Rob Kardashian also has a daughter, Dream Renée, who he shares with his ex-fiancee Blac Chyna, according to Elle.
North clearly has a ton of cousins to grow up with, and one who she's apparently close enough to to share epic birthday parties with. And as awesome as her recent birthday party probably was, it's messages like the one that Kim shared about her daughter, rather than the extravagant birthday parties she'll have, that North will likely look back on fondly when she's all grown up.