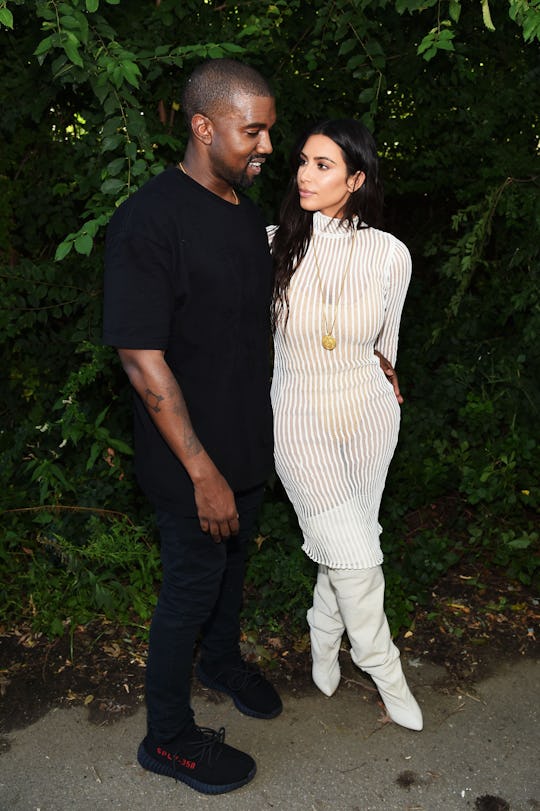 Jamie McCarthy/Getty Images Entertainment/Getty Images
Kim Kardashian West Had To "Let Go Of Her Independence" When She Married Kanye
Some may say you aren't supposed to change yourself for a relationship, while others would argue that compromise is essential to making anything last long-term. Kim Kardashian West says she had to "let go of her independence" when she married Kanye West, and it's become increasingly clear that her mindset likely falls more with the latter party.
Being married to a celebrity is undoubtedly an interesting experience to which most people couldn't begin to relate. But being married to a particularly outspoken, controversial one? Well, as far as Kardashian is concerned, it requires some lenience. "I let him be who he wants to be," Us Weekly reported she shared on this past Sunday's episode of The Alec Baldwin Show. "I let him have his own views and opinions, even if they're different than mine."
Kardashian continued: "I think being with a man like Kanye, you have to learn how to be a little bit not-so-independent... I've always been so independent, and working, and [had a] schedule, and when you get married and have a husband with a career and kids, your independence… you have to let it go. I had to learn that being with a man like Kanye."
But her autonomy wasn't the only thing that she had to shift upon marrying the rapper, Kardashian explained. It was also how she approached fame and publicity altogether.
She went onto explain that prior to her marriage, she and her friends would intentionally get dressed up and go places they would be seen by paparazzi. "We'd get our hair and makeup done filming... When we'd be done I was like, 'What is the hottest restaurant Hollywood? Where can I go? Where can I be seen?'" Kardashian began.
"Everything had to be public for me back then. And so I had to kind of flip it. Now, on my time off, I'm like, 'Where are the locations that I can go eat, go on vacation, where no one will see us?' All I want it privacy."
Earlier this year, when West first went public on Twitter with his apparent support for Trump (amongst other controversial statements) Kardashian didn't initially respond too warmly. CNN reported that the rapper penned the song "Wouldn't Leave," which included the following lyrics: "My wife callin', screamin', say, 'We 'bout to lose it all!' / Had to calm her down 'cause she couldn't breathe / Told her she could leave me now, but she wouldn't leave."
Later, Kardashian went on record to explain why she supports her husband unconditionally — even if they at times disagree.
"He might say things that might get misinterpreted and people don't see the context behind it, but I always know his heart," Kardashian told Entertainment Tonight. "We have different views sometimes, we have different things, but that's my husband, you know?"
Though, like any marriage, much of the details of their personal lives are kept from the media, one thing that the couple has been pretty public about is the fact that West dresses Kardashian. The Daily Mail reported that Kardashian said her husband sends her emails of what to wear each day. (W also reported that West once made Kardashian "cry" when he threw out 250 pairs of her shoes, which sort of makes sense as they did feature him cleaning out her closet on one episode of Keeping Up With the Kardashians).
Regardless, it's become increasingly clear over the years that Kimye's relationship is likely as unique as they are, and when it comes to trying to pass judgments about someone else's personal life, those not directly involved should avoid throwing stones. After all, to each their own.