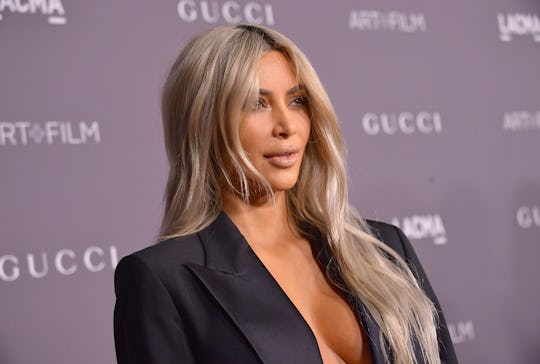 Charley Gallay/Getty Images Entertainment/Getty Images
Kim Kardashian Explains Why She Won't Talk About All Of Those Pregnancy Rumors
Unless you've hired a magical fairy to somehow erase your memory of everything that's happened this past year (which, to be honest, wouldn't be the worst idea ever), you know that there are three reported pregnancies in the Kardashian-Jenner family, including Kim Kardashian herself. But, Kardashian won't talk about all of the pregnancy rumors surrounding her family, and that's totally OK. Because even though the family has their own television show, that doesn't mean that they have to share every little detail about themselves to the world. Sometimes, it's acceptable for them to maintain their privacy.
In September, TMZ reported that Kardashian's youngest sister, Kylie Jenner, was pregnant with her boyfriend, Travis Scott. Since then, no one in the Kardashian-Jenner family has confirmed or denied the news. Likewise, a mere four days later, it was reported that Kardashian's other younger sister, Khloe Kardashian was allegedly pregnant as well, according to People. And, true to Kardashian form, both of the sisters have been sly about the validity of these reports, keeping fans on edge as they await confirmation.
While Kardashian herself has confirmed that she and husband Kanye West are expecting their third child — reportedly via surrogate — the other two pregnancy rumors are still up in the air. And it looks like Kardashian plans to keep them there until her sisters decide otherwise.
During a recent interview with ABC News, Kardashian revealed that it wasn't really her business to say anything about the pregnancy rumors surrounding two of her sisters. She explained:
I am having a baby and that's all I can really speak for. I kind of respect everyone's choice to tell their story their way, and I'll let them refute their own rumors. I think we've all gotten to a place where that's our family rule. It's like, "OK, let everyone just speak for themselves because there's so much stuff out there."
And her comments aren't really that much of a surprise, either. Absolutely no one in the family has addressed Khloe or Kylie's reported pregnancies head-on, with momager Kris Jenner perhaps giving the best answers to pregnancy questions on The Ellen DeGeneres Show last week.
According to People, when DeGeneres started poking fun at Jenner, telling her "you have lots of pregnant children right now," Jenner remained calm, cool and collected. And, she also managed to avoid giving DeGeneres an actual answer. Instead, she brushed it off, saying, "Oh here, I can feel where this is going. She's trying to trick me into confirming pregnancies." Although Jenner didn't say anything to DeGeneres confirming the pregnancies, she also didn't wave off the theory that all the pregnancy rumors would be addressed on the current season of Keeping Up with the Kardashians.
"You're waiting for your show to do it, I know that," DeGeneres joked, to which Jenner jokingly responded that she gets 10 percent, so yeah, why wouldn't they draw in more viewers with pregnancy rumors? And she isn't wrong. Many are theorizing that both Kylie's and Khloe's rumored pregnancies will be addressed on the show, and not a moment sooner.
As for Khloe and Kylie themselves, the two sisters have remained pretty mum on the pregnancy rumors. Kylie, for her part, has accused paparazzi and publications of of photoshopping images of her to make her look bigger. Khloe, on the other hand, hasn't said or done anything to dispute or confirm the rumors outright. Nevertheless, many are suggesting that her wearing a baggy shirt was confirmation in and of itself.
But at the end of the day, these pregnancy rumors are just that: rumors. Until Khloe and Kylie actually address them, nothing can be known for sure. And Kardashian surely won't talk about it either.
Watch Romper's new video series, Romper's Doula Diaries:
Check out the entire Romper's Doula Diaries series and other videos on Facebook and the Bustle app across Apple TV, Roku, and Amazon Fire TV.