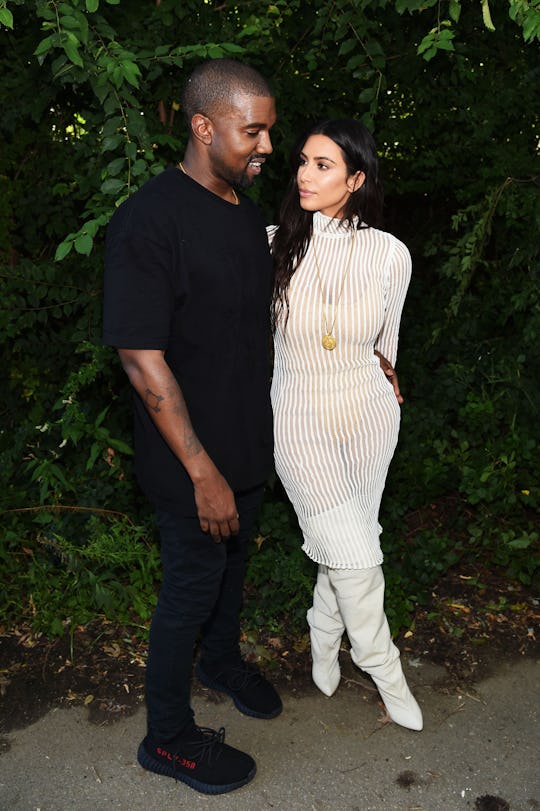 Jamie McCarthy/Getty Images Entertainment/Getty Images
Kim Kardashian's Christmas Gift From Kanye West Is Both Extravagant & Practical AF
Listen, there's nothing wrong with living vicariously through others, especially when those others are celebrities who are ridiculously wealthy. And Kim Kardashian's Christmas gift from Kanye West proves that sometimes, romance can also be pretty practical. Yeah, even though the Kardashian-Wests tend to live some pretty extravagant lives, this year they decided to be a bit more logical with their gift-giving.
Kardashian shared on her Instagram Story on Tuesday that her hubby decided to spoil her in a whole new way this year. Instead of indulging his wife in some diamonds, clothes, or cars, Kanye West bought his wife... stocks. And lots of them.
That might not seem like the most whimsical or romantic of gifts, but it's actually pretty brilliant. And Kardashian also seemed to think so. In her Instagram Story, Kardashian captioned her video "best husband alert!" and described the gifts he got her, including several gift cards.
"Okay, so for one of my Christmas presents from Kanye he gives me this little box with a Disney Mickey toy, Apple headphones, Netflix, Amazon gift cards and Adidas socks," Kardashian explained in the video.
But that wasn't all. West also smartly gifted his wife with investments for each company that he bought her gifts from.
In her video, Kardashian can also be heard explaining that her husband's gift had more to it than meets the eye. "But then I open the next box and it is stock to Amazon, where he got the gift card, stock to Netflix, stock to Apple where he got the headphones, Adidas stock and Disney stock."
So, not only did West gift his wife some pretty cute toys for Christmas, but he also quite literally invested in her as well. Which, when you think about it, is pretty freaking sweet. From the videos it can be seen that the rapper gave his wife some pretty large shares of the stocks, too. Yeah, this guy doesn't play around when it comes to spoiling his wife.
"Her Christmas present also included 995 shares of Adidas stock, which has a value of $169.40 per share as of Tuesday afternoon for a total of $168,553," as People reported of Kardashian's gifts. "While it's likely that the rapper spent about $100,000 for the rest of the stocks, Kardashian did not reveal all the values."
Most kids might think of stocks, savings bonds, or even gift cards as pretty boring gifts, but adults can all recognize that they're anything but. Of course, though, the family has been known for their extravagant gift giving in the past.
Although Kardashian may not be dominating the headlines as much as she normally does — as sisters Khloé and Kylie have been in the news a while for their respective reported pregnancies — her Christmas gifts from West is seriously newsworthy. Considering the fact that the couple is currently expecting their third child via surrogate, West's gift to his wife is actually pretty genius. Seriously, he isn't just getting her some pretty jewelry, he's working to secure their future, and that's also pretty sweet
Stocks aren't the most interesting gift that West has gotten for her, though. Back in 2015, West gifted his wife more than 150 presents, with packages ranging from practical to extravagant. According to Us Weekly, "Among the gifts was a rainbow-hued fur coat, a Louis Vuitton dress, a Prada jumpsuit, and more."
Clearly, West knows how to make his wife happy when it comes to gift giving. Whether it's showering Kardashian with bouquets or roses or thousands of dollars worth of stocks, he knows what to do for those special holidays.
Check out Romper's new video series, Romper's Doula Diaries:
Watch full episodes of Romper's Doula Diaries on Facebook Watch.