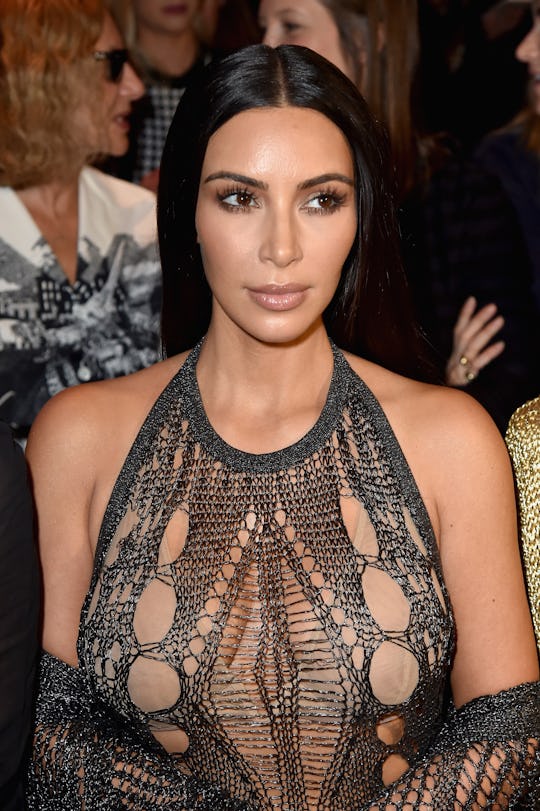 Pascal Le Segretain/Getty Images Entertainment/Getty Images
Kim Kardashian's Concierge Says There Was No Security At Her Paris Hotel, & It's Scary
With each passing day, the Kardashian-sized hole in our social media lives grows ever larger. Following her traumatizing robbery on Oct. 3, Kim Kardashian and some family members have maintained a social media blackout. But the blackout doesn't lessen our appetite for Kardashian news, and we can't help but wonder what exactly happened that evening and how. Now, more heartbreaking details are emerging about the break-in and robbery that occurred at the hotel Kardashian was staying in during Paris Fashion Week. According to Us Weekly, Kardashian's concierge said the hotel lacked security.
A representative for the Hôtel de Pourtalès told Romper that the hotel is not commenting on the incident or allegations right now. The concierge, Abdulrahman, said the hotel did not put security systems in place, even after repeated warnings and requests to do so.
There was no real security at all. It's a choice... We told them year and years before, you have to make a camera, you have to put [in place] a security process, about keys. Nothing was locked, there was no proper security there.
The 39-year-old security guard said he emailed hotel management in 2010 to ask for a better security system. Despite that, security codes in the establishment had not been changed for six years. And the Daily Mail reported that the codes had not been changed for a full two weeks following Kardashian's robbery.
Abdulrahman said there were no functioning security cameras and that there was often only one guard on duty. On the night of Kardashian's robbery, Abdulrahman was the guard on duty. As has been previously reported, five armed robbers dressed as police officers threatened the guard and told him to lead them to Kardashian's room in the hotel. The wooden door to her room only had one single lock.
That's not good news for celebrities with millions of dollars' worth of possessions, like Kardashian. Authorities reported that jewelry worth an estimated $10 million was stolen from Kardashian, according to CNN Money. The social media star was alone and had been bound and gagged during the robbery. Reports revealed that Kardashian was afraid for her life and thought the robbers might rape or otherwise harm her physically. She reportedly pleaded with them, saying she was a mother and had kids back home.
Abdulrahman told the Daily Mail that he too was afraid for his life during the incident. The robbers had held him at gunpoint, handcuffed him, and forced him to cooperate with the group.
He said that immediately after the incident, he was angry at the hotel management for their lack of security. "I was very angry," he said, "and the first one I blamed was the hotel. They are responsible, I think. And I still blame them now." He continued:
I told them, 'Look what you did! What I told you for six years? Security cameras and other things are meant for days like today, to prevent these things from happening. If you have good guards, electronic systems to lock the doors, it can be possible to secure the hotel.'
But the concierge was happy both he and Kardashian escaped the incident mostly unharmed physically. And he continued to caution against a lack of security.
One day, someone might be killed. That is more important than a robbery of rocks and metal.