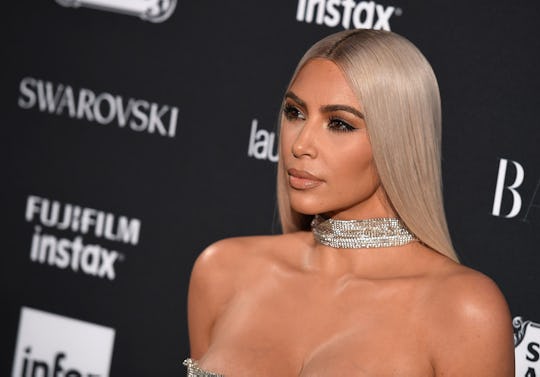 ANGELA WEISS/AFP/Getty Images
Kim K's & Kanye West's Surrogate Is Reportedly Due Sooner Than We Thought
Although it was previously reported that Kim Kardashian and Kanye West would be welcoming their third child in January, new information suggests otherwise. The famous couple, who made the decision to use a surrogate for baby number three, have continued to remain quiet about the pregnancy. However, an insider told Us Weekly that Kim K and Kanye's surrogate is reportedly due sooner than we thought.
The source reportedly told the publication the big arrival could be happening before Christmas. This newest tidbit of information comes from an insider who is in "regular contact with" the woman carrying the newest Kardashian-West child. If you remember, TMZ initially broke the news in June of the possibility of a surrogate pregnancy. Then, in September, TMZ reported the surrogate's due date would be sometime in January. And, according to Us Weekly, rapper West, 40, and fashion icon Kardashian, 37, will be adding a baby girl to their little family — which currently consists of a daughter, North, 4, and a son, Saint, who is just shy of 2.
The Keeping Up With The Kardashians star endured high-risk pregnancies with her two children due to a condition called placenta accreta. The potentially life-threatening issue occurs when blood vessels and other parts of the placenta grow too deeply within the uterine wall. Because of this, part or all of the placenta remains attached after childbirth, which could result in dangerous bleeding.
Kardashian described just how terrifying placenta accreta can be on her website. Of North's birth, she wrote:
My doctor had to stick his entire arm in me and detach the placenta with his hand, scraping it away from my uterus with his fingernails. My mom was crying; she had never seen anything like this before. My delivery was fairly easy, but then going through that — it was the most painful experience of my life!
With Kim K having experienced such traumatic births, I don't blame her in the least for opting for a surrogate this time around. Kardashian and West reportedly connected with her through an agency, according to US Weekly. Although the identity of their surrogate isn't public, the news outlet has revealed some potential deets. Allegedly, the woman is in her early 20s and from San Diego. She also has experience with this whole pregnancy business, as she's reportedly already a mother and has previously served as a surrogate.
Regardless of the surrogate's identity, one thing's for sure: She will be well-compensated for her services. TMZ reported the woman hired by Kim and Kanye would be paid $45,000 in 10 installments. And in the event of multiples, she would receive $5,000 per additional child. Kardashian and West have also reportedly put down a $68,850 deposit with the agency, according to the news outlet. Still, a little more than $100,000 is nothing for this insanely loaded couple.
Fans' reactions to the tweaked due date of the third Kardashian-West baby seem to be mixed. Some are still convinced the famous couple will soon be welcoming twins — and considering a recent tweet from Kim combined with due date that was moved up, this could very well be possibility.
Others are convinced a holiday due date is simply an attempt for the family to cash in even more.
Still others couldn't care less.
Whether or not West and Kardashian will ultimately have a new bundle of joy in their arms by Christmas, it's clear the countdown is on. Personally, I've always thought having a newborn around the holiday season would make it extra special. Baby snuggles by the fireplace. Holiday decorations. Plus, family gatherings are the perfect opportunity to introduce a new baby. And, I don't know about you, but I'm definitely a fan of the name Noelle. Noelle West? Sounds like a winner, to me!