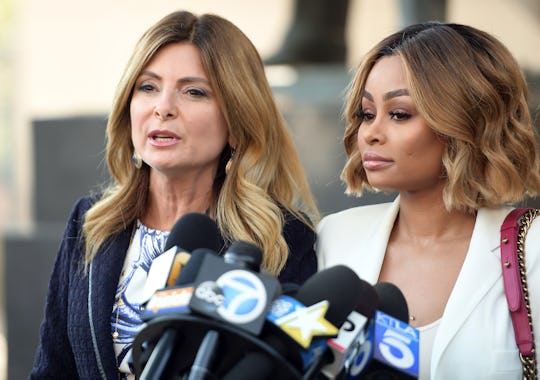 Matt Winkelmeyer/Getty Images Entertainment/Getty Images
Is Blac Chyna In Breach Of An NDA?
In case you've been keeping away from the current news cycle (and really, who could blame you if you were?) you might be unaware that there's kind of a lot going on with Rob Kardashian and Blac Chyna. The couple, who were previously engaged and now share a daughter, 8-month-old Dream, whom they coparent, were embroiled in a very public fight last week. It escalated to the point of Kardashian allegedly sharing revenge porn of Chyna without her consent. And now, as the Lash Bar owner has filed a restraining order against her ex, the latest Kardashian claim about Chyna may just complicate things further.
Yup, things are getting even more intense. Now, Kim Kardashian, Rob's famous sibling, has seemingly suggested that Chyna signed a non-disclosure agreement with the family back when she and Rob were together, and that she allegedly violated that contract in coming forward and obtaining a restraining order against her ex. Romper has reached out to Chyna's reps for comment and is awaiting a response.
After Chyna spoke to reporters about her restraining order, she also claimed multiple incidents of abuse with Kardashian, "including that he hit her during an argument on April 8; he was suicidal and had sent her text messages claiming that he was going to take his own life if she 'didn't do what he wanted me to do'"; and that Kardashian reportedly owned a gun, according to People. But when ABC News reached out for comment on those allegations, the outlet claimed, Kardashian's sister, Kim, merely responded with a copy of an NDA Chyna had signed before appearing on Keeping Up With The Kardashians.
The agreement, which is now in the hands of ABC News, was allegedly signed by Chyna on June 10, 2016. A somewhat standard NDA, this particular contract prohibits the signer from discussing any member of the Kardashian family outside the show, either in public, or in private. Here's part of the agreement, for reference:
[Chyna] shall not at any time disclose, publicly or privately, any information which is in any way, fashion or manner related to, associated with or connected to the Kardashian family/Jenner family/Disick family/West family and/or their personal relationships, their business activities, plans, operations, finances or employees.
So technically, Chyna's interview on Nightline could be considered an alleged breech of contract, as she discussed details about her relationship with Kardashian publicly. And while no member of the Kardashian family has spoken out about the latest happenings with Chyna, if legal actions were to be taken against her, she could be asked to pay the family upwards of $10 million.
However, for now it seems that the only legal action to be taken is Chyna's restraining order against Kardashian. Kardashian's lawyer, who was present in court while Kardashian was not, told reporters that his client just wants to do "whatever is in the best interest of the child."
Hopefully, that's what everyone involved in the situation will keep in mind. Because no child should have to deal with court dates and restraining orders, especially while they're in the public eye.