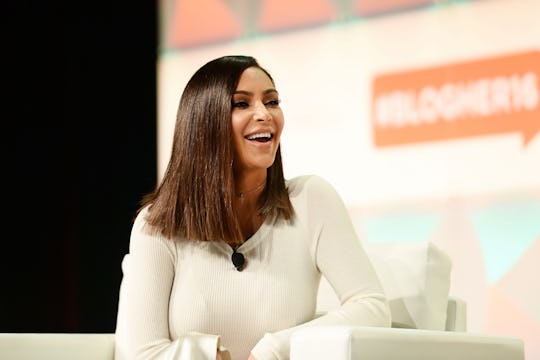 Matt Winkelmeyer/Getty Images Entertainment/Getty Images
Kim Kardashian's Latest Saint West Video Will Melt Your Heart
Who isn't addicted to watching Kim Kardashian's Snapchats or Instagram posts these days? From the glimpses of her super fabulous and glamorous life, to snaps of her just hanging out with her family, Kardashian's life is never not eventful. But viewers of her social media accounts also know one thing — Kim Kardashian loves being a mother — and her children are adorable. This is why Kim Kardashian's latest Saint West video will give people even more of a reason to follow her on social media.
I'm going to go out on a limb and say that Saint West is probably one of the happiest babies in the world. I mean, how could he not be? He has one of Hollywood's biggest power couples for parents and some pretty great family members, to boot. That would give any child a reason to smile. Saint West shows off that adorable smile and laugh in Kim Kardashian's latest Instagram post. Saint is seen smiling and laughing as his mom tickles him with a stuffed animal behind the camera. Saint's alert, wide eyes and uncontrollable giggles make the video heart melting. And at just 8-months-old, Saint West will definitely have many more years to melt hearts.
If people think this video of Saint West is adorable, then they would love the videos that Kardashian posts of Saint and North on her Snapchat, @KimKardashian. Kim really loves using Snapchat's fun filters and the kids could not look any more adorable as bumblebees and puppies.
Before Kim started sharing pictures of Saint West on her social media, many people didn't believe that Saint didn't even exist. Ridiculous, right? At least — according to Kardashian. On Friday, at the BlogHer 16 Conference in Los Angeles, revealed why she was so hesitant to post pictures of her youngest child on social media:
So truly, I was not posting about my son because I wanted him to be able to go to the park every single day like a normal human being and nobody knows who he is...He's eight-months-old now, and people thought he didn't exist. People thought I had a whole fake baby and I made this whole thing up because I wasn't posting about it. And to me, that is so ridiculous.
What is even crazier is that it took Kardashian only three months after his birth to post the first picture of Saint — yet people still thought he didn't exist. That is nuts.
What isn't ridiculous is the newest video of Saint West that Kim Kardashian posted to her Instagram account. If this video hasn't convinced people to follow her on Instagram and Snapchat, then Saint West isn't one of the cutest babies in the world (which he definitely is).