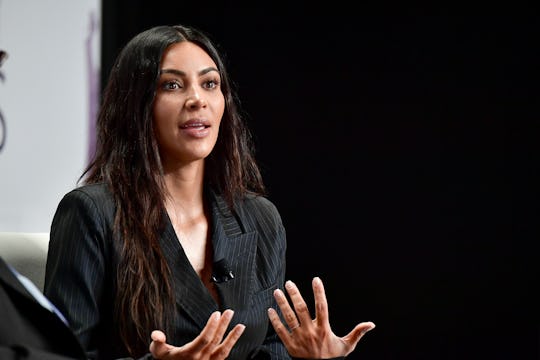 Dia Dipasupil/Getty Images Entertainment/Getty Images
Kim Kardashian's Message About Saint's Pneumonia & Hospital Stay Is So Sweet
Scary news out of the Kardashian camp: Kim Kardashian West's son, Saint, reportedly had pneumonia. On Tuesday, Kardashian wrote about Saint's hospital stay for pneumonia, and it's so relatable for any parent who's had to deal with a health scare with their small child. Thankfully, it sounds like Saint is on the mend, but any stay in the hospital can be scary, especially for a kid as young as Saint, who reportedly had to spend three days there because of his illness.
Kardashian and Kanye West's 2-year-old son is now recovering at home, according to People. The parents were reportedly with their son at the hospital, and shared "overnight duties" during his stay, according to Cosmopolitan. So hopefully when they did all make it home for New Year's Eve, they rang in the new year by getting a whole lot of rest.
Kardashian posted a photo of herself holding Saint to Instagram on Tuesday, and the caption read:
My precious baby boy is so strong! After spending three nights in the hospital & seeing my baby get multiple IV's and hooked up to oxygen machines, our end of year was challenging. Pneumonia is so scary. I just want to thanks every nurse & doctor out there who works so hard around the clock. We are so grateful for you all! He's home and all better. He's so resilient I'm sure he will still say the ambulance ride was cool! My strong Saint 👼🏽
Kardashian admitted just how scary it was to see her son hooked up to machines and IV's, and any parent can probably relate to that. Even moms and dads who haven't had to deal with a medical scare like this with their kids can likely imagine the fear another parent would feel in that situation.
Pneumonia is a very serious illness for kids, and in some cases it can even be deadly. In fact, pneumonia accounts for 16 percent of all deaths for children under 5 years old, according to a fact sheet provided by the World Health Organization in 2016. In 2015, pneumonia actually killed 920,136 children.
Pneumonia is clearly not just a case of the sniffles. Severe pneumonia often develops more abruptly than a cold or virus, and symptoms in children include a high fever, sweating or chills, flushed skin, wheezing, difficulty breathing, and a "bluish tint" to lips or nail beds, according to Everyday Health.
A trip to the doctor in order to diagnose pneumonia and to check on how severe it is is the best course of action for parents who worry their child may have the illness. Pneumonia can progress very quickly in kids, according to Everyday Health. And that might be what happened to Saint.
Just days ago, Kardashian shared a photo of her little family to Instagram, and Saint was "bundled up in a hat and jacket," The New York Daily News noted. The photo was captioned simply "Happy Holidays," but whenever it was taken, Saint probably wasn't in the hospital. That suggests that his health took a turn really quickly if he was in and out of the hospital between Christmas and New Year's Eve.
Other members of the Kardashian/Jenner family posted hopeful New Year's posts to their own social media accounts, and didn't mention Saint's health scare. But they were probably just being respectful of Kardashian and her family and their privacy. For a family that is so constantly in the news cycle the way the KarJenner clan is, it's times like these they'd probably like to keep things a little quiet.
The good news is, Saint seems to be recovering, and that's a great way to start off 2018. In her post updating fans on Saint's health, Kardashian made sure to thank doctors and nurses for all their hard work, which was a really lovely gesture. The truth is, health scares don't stop just because the holidays are happening, and it's a wonderful thing that Saint had such great medical care and will hopefully be back to his healthy little self soon.