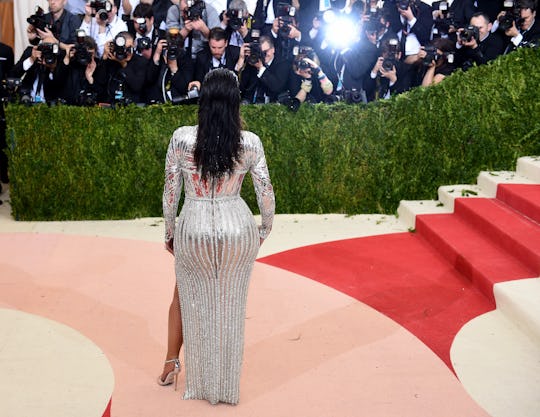 TIMOTHY A. CLARY/AFP/Getty Images
Kim Kardashian's Met Gala Dress Was 'Blinged Out Robot' In The Best Way Possible
The Met Gala is probably one of the biggest nights in fashion, if only because it's the one time celebs can wear crazy outfits and not have to worry about tripping up a stage to accept an award — and that's exactly why fans were anxiously waiting to see what Kim and Kanye would show up wearing. This year's theme was "Manus x Machina: Fashion in an Age of Technology", to go along with the charity exhibit at the museum, and Kim Kardashian's Met Gala dress was absolutely fitting. Decked out in all-silver Balmain this year, Kim and Kanye channeled their best tech-forward looks without going full-costume. Kardashian told E!'s reporters on the red carpet that she wanted to be a "blingy sexy robot" for the evening. Mission accomplished, girl.
On her arm, Kanye was also at his most fashionable wearing a studded Balmain jacket with light washed jeans and brown boots. Kardashian has long worked the Met Gala red carpet, even with a baby bump in past years, in her signature sleek dresses and off the shoulder looks. This year was no different.
Earlier in the evening, Kardashian announced her arrival with a cryptic tweet. "We're here!#butterflies," she wrote. (Turns out her hashtag was more about red carpet nerves than the print of her dress — although tech-themed butterflies would have been an interesting sight to behold.) Kimye hasn't always played into the theme of the charity event, which can sometimes be controversial; Last year, for example, when the theme was "China: Through the Looking Glass," some stars crossed the cultural appropriation line — but Kardashian remained super cool in an almost-nude sequined dress, effectively blowing away the competition.
Kim wasn't the only one in the Kardashian clan killing it on Monday night: Kendall Jenner showed up early and was wearing a sleek ponytail and cut-out Versace gown bound to make every "best dressed" list for the rest of the year. Her mom, Kris Jenner, wore a black Balmain dress with a horn-shaped hat, causing some fans to call her a little Maleficent. Altogether, the Kardashian-Jenner clan look very good together. And we all know how much they love their family photos.
Fans too were feeling Kardashian's Met Gala dress this year on social media:
To round out their look for Monday night, the couple might have also won "best accessories," according to fans on Twitter. Kim's wrap-around earrings and slicked back hair paired with Kanye's blue contacts were just the final touches on already killer looks. The couple always seems to have it going on and this year's Met Gala red carpet look will be one to remember (even if Kanye was wearing jeans.)