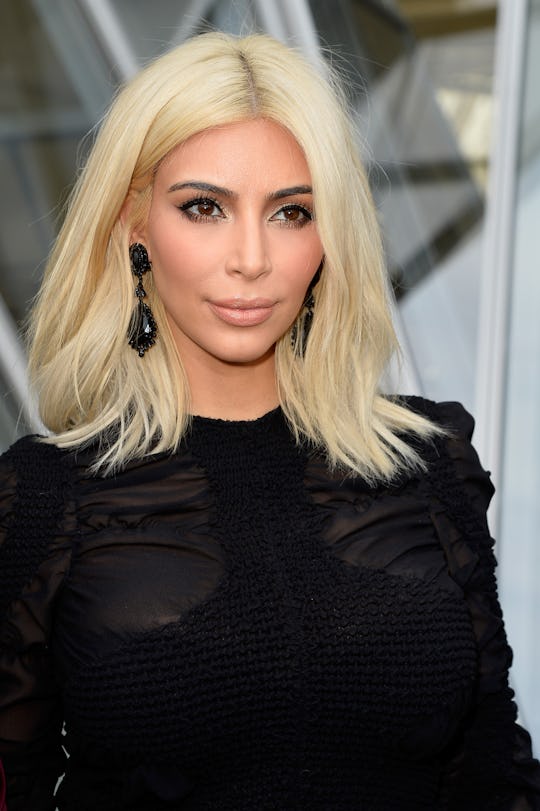 Pascal Le Segretain/Getty Images Entertainment/Getty Images
Kim Kardashian's Naked Selfie Sends A Much-Needed Sex Positive Message
Remember when Kim Kardashian broke the internet? Well, it just happened again. On Monday she tweeted a naked selfie out to her millions of followers and the response was massive. Comments ranged from the emoji equivalent of "hubba hubba" to "you go, girl" to "you should be ashamed." Fans and critics alike flooded Kardashian's Instagram account, "liking" the aformentioned posts over 1 million times. But whether you disagree with her style or can't get enough, here's why Kim Kardashian's naked selfie sends a much-needed sex positive message.
Fans may recall that Kardashian is a new mother for the second time. In fact, she gave birth just three months ago, which, alone, makes this selfie pretty incredible (some have disputed that the photo is older, claiming that it was likely an older image taken back when Kardashian first went platinum blonde in March 2015). Not only is it showing how comfortable she is in her mom-bod, but she's also showing how she's not the same as she was, and that's okay.
In fact, the selfie seems to say, we should all be so comfortable in our skin. Bodies change, but they are beautiful every step of the way. Being a mother doesn't make you any less sexual or sexy, which is what naysayers seemed to be suggesting. One follower wrote, "You are a mother. You have no self respect. Smh wonder how she feel if North was to post a pic like this when she's older."
Of course, this isn't the first time one of Kardashian's nude selfies has made headlines. When she was pregnant with her second child, Saint, Kardashian posted a filterless, clothing-less photo of her pregnant body on Instagram for all to see. The selfie was in response to some fans and critics wondering if she is pregnant or not. She wrote:
First they say I'm too skinny so I have to be faking it...Now they say I'm too big so I have to be faking it...SMH! Some days I'm photographed before I eat & look smaller, some days I've just eaten & I look bigger. It's all a part of the process. I think you all know me well enough to know I would document the process if I got a surrogate. Everyone's body is different, every pregnancy is very different! I've learned to love my body at every stage!
Like her more recent photo, not only is this a wonderfully body positive message for all women, but it's an incredibly powerful affirmation for expectant mothers. So often, pregnant women are told or feel that they are "huge" or "fat" or "too skinny." During pregnancy or not, every body is different and there is no place for judgement. Even coming from a cultural icon known for her physical appearance, this message subverts the expectation of a sexualized naked photo and frames it instead as a celebration of motherhood. She went on to write,
I'm going to get even bigger & that's beautiful too! I'm blessed to even be pregnant & even luckier to not have preeclampsia as far as I know, so I don't have the swelling issue this time! They also say your body carries a boy different than a girl! Whatever the case may be I'm grateful to God for this miracle & no matter what.
These posts marks a welcome change in Kardashian. During her first pregnancy she was very critical of her own weight gain. She told Elle U.K that she thought it was God's way of punishing her. "I'd think God was doing this for a reason," she said. "He was saying: 'Kim, you think you're so hot, but look what I can do to you.' ... My body just went crazy. After five months I swore I'd never get pregnant again. I got so huge and it felt like someone had taken over my body."
She isn't the only mother who has felt like she lost part of herself. However brash, her posts both show the beauty and power of female bodies and encourage fans to shut down those who would criticize them — especially if your biggest critic is yourself.