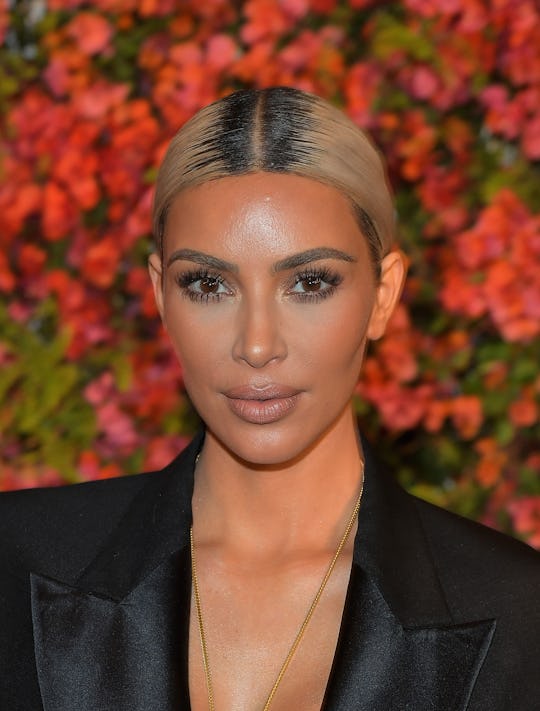 Charley Gallay/Getty Images Entertainment/Getty Images
Kim Kardashian's New Family Photo Has Fans Super Suspicious About Kylie Jenner
Lately, one Keeping Up with the Kardashians family member has been missing from pretty much all family photos: A reportedly pregnant Kylie Jenner. And it definitely hasn't gone unnoticed by fans. "But where's Kylie?!" the world collectively shouted on Christmas Day, when the youngest Kardashian/Jenner sibling was glaringly left out of the highly-anticipated day 25 of the Kardashian Christmas card countdown. Radio silence on the makeup mogul's social media channels has her followers practically foaming at the mouth, as well. And most recently, Kim Kardashian's new family photo has fans as suspicious as ever about Kylie Jenner.
Us Weekly reports that fans weren't happy when Jenner failed to make an appearance on the family's Christmas card. This is probably because so many people were convinced the final day of the countdown would reveal an undeniable bump — which would finally confirm Kylie's reported pregnancy. Expectations rose even more when her sister, Khloé Kardashian, officially confirmed her pregnancy on Dec. 20, as People reported. But alas, their big, shiny gift never came. And Twitter was royally pissed that Christmas was essentially ruined by the card's lack of Kylie. "Goodnight & merry xmas to everyone except Kylie Jenner for not revealing her pregnancy on the 25th day of Kristmas," one particularly salty Twitter user wrote. "Screw u Kylie I preferred your sis candle anyway." Ouch, brutal!
I think this one perfectly summed up everyone's reaction: A condemning rant (in all caps) accusing the family of ruining Christmas, followed by, "I'm still gonna watch every episode though." Same.
Outrage on Christmas Day turned into exasperated annoyance when on Saturday evening, Kim Kardashian shared a festive family portrait via Twitter. Hmmm ... I spy Kim Kardashian, Kourtney Kardashian, Khloé Kardashian, Kendal Jenner and Kris Jenner, plus North West and Penelope Disick. But still no Kylie Jenner. Cue: Twitter meltdown.
Kourtney Kardashian attempted to make light of the situation by also sharing the (strangely Addams Family-esque) family portrait on Instagram. Alongside the photo, she added the caption, "When you can't find the rest of the family for the photo ..." LOL. To be fair, aside from Kylie still being MIA, there are also quite a few grandkids that apparently couldn't be found for the photo. (Oh, and Rob.) And where are all of the dads/husbands/boyfriends?
Unsurprisingly, Kourtney's followers weren't all that amused by her coy antics. "Ummhm.. yeaaaa I'm sure y'all couldn't wait one second to find Kylie for this one fam pic," one person commented. Another Instagram follower chimed in with, "You mean 'when we never include rob and Kylie is pregnant.' Yet another person — who is evidently still having a difficult time getting over the Christmas card letdown _ pointed out, 'You had 25 days to find Kylie." I'd also like to give a shoutout to the person who read my mind about the overall vibe of these photo. This person commented, "The Addams family!" (I swear, it must be a combination of the sheer, black dresses Kourtney and Kris are rocking and the deadpan expressions on everyone's faces.)
Honestly, if I were Kylie right now, I'd probably want to be lying low, too — pregnant or not. The poor girl can't do anything anymore without being ripped to shreds. If she is currently pregnant and had appeared in this photo, she very well might have given away her "secret" before she wanted to. (Sorry guys; I know we've all been waiting since September, but maybe she still isn't ready to officially confirm anything yet.) And if she's not pregnant, people would be scrutinizing the way she looks anyway. Sure, Kylie is a celebrity, and she's more than used to being in the spotlight. But don't you think the world vulture-ing over her every move is maybe a tad bit stressful? Perhaps she just wants to have a stress-free holiday without all of the expectations. (But really. Shouldn't someone be filling a missing person's report by now?)
Check out Romper's new video series, Romper's Doula Diaries:
Watch full episodes of Romper's Doula Diaries on Facebook Watch.