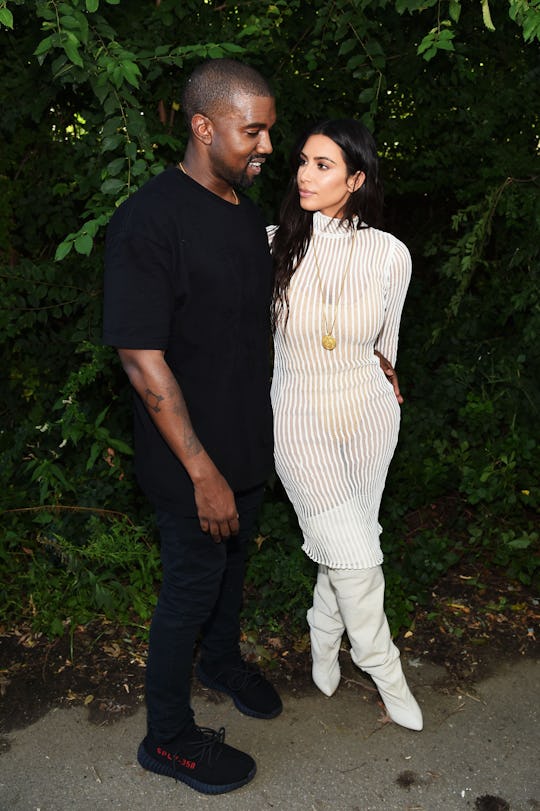 Jamie McCarthy/Getty Images Entertainment/Getty Images
Kim Kardashian Shared A New Family Photo With Baby Chicago & It's Easily The Sweetest One Yet
Kim Kardashian is now a mom of three and with every new post about her family, it's so obvious that she's been loving every minute of it. On Monday, for example, Kim Kardashian shared a new family photo with baby Chicago and it's only the second time she's shared a sweet shot with the whole crew together. In the adorable photo, they appear to be sitting on a private plane getting ready to take their seats (because they're Kim Kardashian and Kanye West, of course) and all of five of them look happier than ever.
After posting a handful of super adorable Easter photos earlier in the month — which is when fans got the first glimpse of the whole family together — Kimye graced us with another family portrait on Monday, April 23. In it, 40-year-old West is sitting in a chair holding 3-month-old Chicago on his lap, and Kardashian is kneeling in the aisle with her arms around 2-year-old Saint and 4-year-old North (who is giving a peace sign to the camera and eating a bag of chips — bless her).
"Party of 5," she captioned the shot, which has already amassed more than 3.7 million likes and thousands of comments on Instagram, fawning over the sweet family.
It's always exciting to see photos of Kardashian and West's brood, especially with their newest addition. The first time the world got to see baby Chicago was actually in Kylie Jenner's "To Our Daughter" video, which she released after announcing that she had given birth to her own baby girl, Stormi Webster. In it, there's a clip of her holding little Chicago for the first time, and Kardashian telling her that they had chosen Chicago as the name.
It wasn't until March that Kardashian shared the first photo of Chicago without a filter (she had previously posted updates using Snapchat). This was pretty consistent with her other pregnancies, as she waited about three months to share the first photo of Saint, and North West's photo debut happened on her grandmother Kris Jenner's talkshow.
The first time that fans saw the entire West family together was on Easter, when Kardashian posted a photo of her, West, and the three kids standing outside. At the time, she joked about how hard it is to get a good photo with three little kids in it, saying that by the end, they were all crying and she was, too. (Relatable, VERY relatable.)
Kardashian and West welcomed little Chicago via gestational carrier on Jan. 15. It's important to distinguish that they did not use a surrogate, which is the technical term for someone who donates their egg and delivers the baby. They used a gestational carrier, which is someone who carried a baby that was biologically Kardashian and West's to term. Previously, Kardashian explained why she didn't carry the baby herself, as Us Weekly reported, citing struggles with previous pregnancies, and preeclampsia posing health risks. According to Us Weekly, she wrote on her website:
Having a gestational carrier is definitely different, but anyone who says or thinks it's the easy way out is completely wrong. People assume it's better because you don't have to deal with the physical changes, pain or complications with delivery, but for me it was so hard to not carry my own child, especially after I carried North and Saint.
Kardashian has been open about her struggles with pregnancy, sharing on her website that alongside preeclampsia, she had a condition called placenta accreta, in which her placenta stuck to the side of her uterus. She said that the doctor had to manually detach it, and that it was a traumatizing experience. Overall, she shared that she's grateful that she and her children are healthy and safe, but concluded that it would be the safest option to have her last child via a carrier.
Given everything Kardashian has been through to grow her family, it's so nice to see all five of them happily together in these sweet photos. Let's hope there are more to come!
Check out Romper's new video series, Bearing The Motherload, where disagreeing parents from different sides of an issue sit down with a mediator and talk about how to support (and not judge) each other's parenting perspectives. New episodes air Mondays on Facebook.