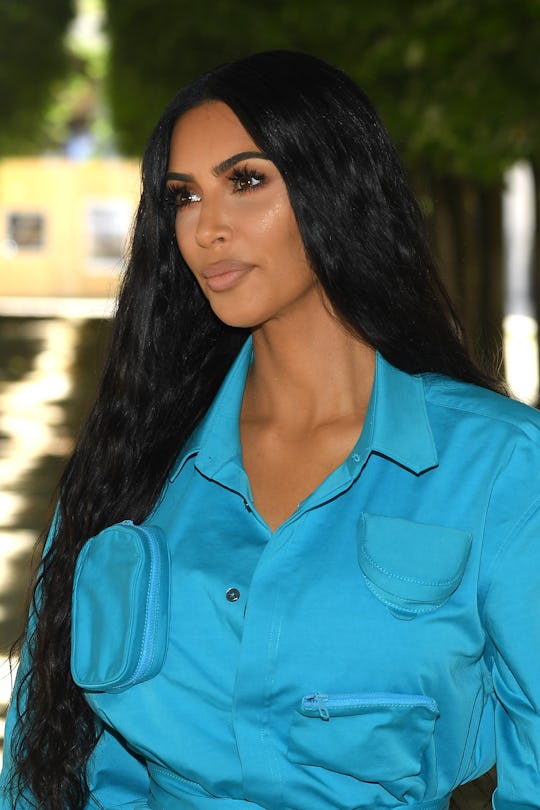 Pascal Le Segretain/Getty Images Entertainment/Getty Images
Kim Kardashian Launched A New Fundraiser For An Incredibly Important Cause
Kim Kardashian's longtime fans have probably noticed her transformation from reality star to an outspoken advocate for a variety of pressing issues. And most recently she launched a fundraising campaign on Facebook for the Child Mind Institute, which, according to its website, is an organization dedicated to "transforming the lives of children struggling with mental health and learning disorders." Translation: Kim Kardashian's new fundraiser supports an incredibly important cause.
Kardashian is full of surprises these days, especially where it concerns her advocacy. On Tuesday, Kardashian launched a Facebook fundraiser in support of the Child Mind Institute and as of, Wednesday, the campaign has already raised $13,000 out of its $50,000 goal, as People reported. Impressive, right?
Kardashian, who admitted to never launching a Facebook fundraiser before, explained why she felt compelled to support the Child Mind Institute in particular. "As a mother of three, I think nothing is more important than my children's health," Kardashian penned in the Facebook post. "This includes their physical and mental health."
Her post continued, "Over 17 million kids in the US struggle with a mental health or learning disorder like anxiety, ADHD, dyslexia or depression, making it hard for them to learn and succeed. Yet with proper diagnosis and treatment, these children can thrive."
"As students return to the classroom this fall, I want to do what I can to make sure they have all they need to succeed in school and in life, now and in the future," Kardashian's Facebook post concluded.
Kardashian is right about the many children out there struggling to "learn and succeed." In fact, a 2011-2012 National Survey of Children's Health found "1 out of 7 U.S. children aged 2 to 8 years had a diagnosed mental, behavioral, or developmental disorder (MBDD)," according to the Centers for Disease Control and Prevention. Additionally, between "1999 through 2015, 1,309 children ages 5 to 12 took their own lives in the United States," according to CNN.
And as a former special education teacher, I can attest to the fact that there's a great need for better resources where it concerns children with learning disabilities. In 2006, it was estimated "4.6 million school-age children in the United States have been diagnosed with learning disabilities," according to The Eunice Kennedy Shriver National Institute of Child Health and Human Development.
So, how does the Child Mind Institute help kids in need of support? As Kardashian revealed in her message:
The Child Mind Institute is transforming the lives of children and families struggling with mental health and learning disorders. They work every day to care for kids who come from around the world for help, and their researchers are studying the brain to figure out what causes mental health disorders and how to better diagnose and treat these conditions. And they are working in classrooms, with students, teachers and parents, to teach children to manage their emotions in a healthy way and get kids the help they need fast.
Kardashian urged readers to visit Childmind.org for more information.
If you want to help the Child Mind Institute achieve its goal, it's pretty simple. Just visit Kardashian's fundraiser page and choose the amount you want to donate — it's up to you. Once you click the donate button, you'll get the chance to select your method of payment. After you confirm your financial information, hit the green donate button to submit your payment. It's also important to note you can make your donation public or private.
For those of you aren't able to make a financial contribution at this time, you can still support this cause by sharing relevant statistics with people who can. Another option is to find volunteer opportunities with organizations that support mental health awareness and children with learning disabilities.
Whether you're a fan of Kardashian or not, it's undeniable that her efforts here deserve praise. Mental health issues — especially where it concerns kids — desperately needs more attention in the United States, and Kardashian's fundraiser is definitely a step in the right direction.