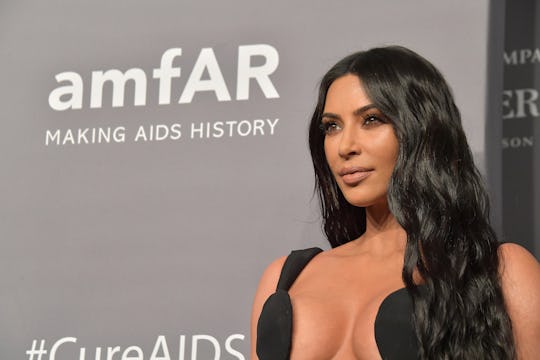 Michael Loccisano/Getty Images Entertainment/Getty Images
Kim Kardashian's New Pictures Of Chicago & True Will Melt Your Heart
Like mothers, like daughters. Kim Kardashian and her sisters love to share highlights of their lives on social media, and it seems things are just as true for the next generation. Kim Kardashian's new pictures of Chicago and True will make your heart melt. The mom of three (soon to be four) shared two sweet photos of Chicago West and True Thompson, writing that she's looking forward to hearing what the future BFFs "talk about" when they're older, People reported. The photos suggest the next generation of Kardashian kids will be just as close as the 38-year-old and her sisters are.
Kardashian shared the picture of 13-month-old West and 10-month-old Thompson early Saturday morning. In one photo, the Keeping Up With the Kardashians star's daughter can be seen wearing a light pink onesie with a pair of tiny gray sneakers. In the photo, West's hands are covering her mouth as she sits next to Thompson, photographed wearing a white dress and pink shoes. In a second image, shared on Instagram by Kardashian, the girls can be seen looking at one another. The tiny tots appear to be giving each other an adorable look.
"I can't wait to hear what they talk about lol," Kardashian captioned the images.
Khloé Kardashian weighed in on the camaraderie between the two girls in big sister Kim's comments, per People. "our little ladies!!!!!!," she wrote.
The 34-year-old is reportedly focusing on planning her daughter's first birthday celebrations, according to another report from People. After dumping Tristan Thompson, who allegedly cheated on her with Jordyn Woods, according to TMZ, Khloé is said to be trying to figure out whether to invite the NBA star to her daughter's birthday bash or how to otherwise involve him in the festivities.
Other sources previously told People that despite her feelings toward her ex-boyfriend, Khloe wants True to feel supported by both parents. She does not want her daughter to harbor any resentment toward her father, or favor one parent over the other, the outlet reported.
"She's very good at compartmentalizing and at the end of the day, she wants True to have a happy relationship with both of her parents," one source told People. "She's not one to seek revenge or hold onto negativity."
One thing is for sure, whether or not Tristan is present, True will be surrounded by family at her birthday party. West, whom she regularly spends time with, will definitely be there. The girls have a strong bond already, as proven by photos of them spending quality time together. Back in December 2018, the tiny cousins appeared in a photo that Khloé shared on Instagram.
"I can't wait to hear their voices And their little conversations!" Khloe captioned the image. "I wonder what they are thinking! Chi just like her mommy with the big stare up and down."
West and True are only a few months apart, so it's only natural that they would be close. Kylie Jenner's daughter Stormi Webster, another cousin of theirs, is also very close in age with the two girls. She, too, often appears in photos with one of both of the Kardashian kids. The girls will likely only grow closer as they get older. Perhaps they'll even star in a Keeping Up With the Kardashians cousins spinoff show of their own one day.