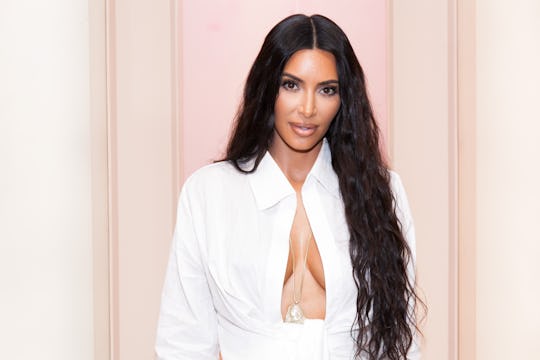 Presley Ann/Getty Images Entertainment/Getty Images
Kim Kardashian's Newest Photo Of Saint Has Fans Convinced He's Kanye West's Twin
Say what you want about the Kar-Jenners — they're "famous for being famous," they're incredibly over-exposed, they're entitled and vain. But you have to admit, they have some pretty cute kids. Although fans of Keeping Up with the Kardashians don't often get to see the Kar-Jenner kids on TV, thanks to social media, followers still manage to get a steady dose of their cuteness. Sure, the bulk of Kim K's Instagram photos are of herself or her beauty line, KKW Cosmetics. But mixed in with these snaps promoting her image and businesses are cute AF photos of her three kiddos, North, Saint, and Chicago. And Kim Kardashian's newest photo of Saint has fans convinced he's Kanye West's twin.
On Tuesday, Kim Kardashian West took to Instagram to share an adorable shot of her middle child, Saint West, who turned 2 years old in December, according to People. "My captain👨🏾‍✈️!!!! MY WHOLE HEART," the mom of three captioned the sweet image of Saint donning a captain's hat. Or wait ... is that a throwback of her husband, Kanye West? Because I seriously cannot tell. And neither can Kardashian's followers, it seems. One Instagram user wrote, "He looks so much like his daddy here ❤️"
Another follower commented, "Omg he's a mini Ye!!"
"My god thats kanyes clone," another person declared.
Another Instagram user chimed in with, "Kanye's Minnie Me 😍"
Yet another follower commented, "That face is a exact replica of the Father, so precious 😘😘😘😘"
But seriously, though. Just look at that face! I'm still not entirely convinced this isn't Kanye West — even if the majority of Kim's followers are assuming it's Saint. (Spill it Kim; I must know the truth!)
Even if you couldn't care less about Kim Kardashian's barrage of nearly-nude — and actually nude — images or other self-promoting content, it's worth following her on Instagram just for the periodic kid photos. (At least in my opinion.) Because every once in a while, her followers are privy to ovary-exploding moments, like this one of the star and baby Chi. Her little toes! Those angelic eyelashes! Their matching white outfits! I literally cannot even, guys.
And what could be better than a photo of one Kardashian-West kid? Two of them, of course. This sibling shot of Saint and Chi is yet another motivator to click "follow" on Kim K's Instagram account.
And OMG, it's Chi and baby True in one shot! That's some serious cousin cuteness going on right there.
Is it just me, or is North looking more and more like her mama every day?
For some, the fact that family photos and nude photos of Kim are shared alongside each other is a juxtaposition they can't get past. But if anyone has proven that sexiness and motherhood can co-exist within the same person, Kardashian clapped back to the wave of backlash she received back in March, after she posted a series of nude photos on Instagram. "It's 2016. The body-shaming and slut-shaming — it's like, enough is enough," she wrote on her website, according to Glamour. "I will not live my life dictated by the issues you have with my sexuality. You be you and let me be me." She continued:
I am a mother. I am a wife, a sister, a daughter, an entrepreneur and I am allowed to be sexy.
A little over a year ago — before Chi joined the family — the mom of two opened up about what motherhood has taught her. "I have such unconditional love for my kids," Kim wrote on her website, according to ET Online. "No matter what, I will always love them and support them in anything they choose to do in life. My family was so close growing up; now that I'm a mom, I understand the bond my mom and dad felt with us." She added:
There can be ups and downs with kids but no matter what, I always learn so much from them. Being a mom is the most important job I have.
I don't know about you, but I adore seeing this side of Kim Kardashian. Sure, she might be known for her big booty and enviable curves. (And for some people, the Kardashian name will always bring them back to her infamous sex tape from more than a decade ago.) Still, I think most people can agree that Kim K is a dynamic person. Sure, she's a savvy businesswoman and practically sex icon. But she's also a sister, a daughter, and a loving mother. And you can bet I'll be sticking around for more adorable Kardashian-West kid photos like her recent one of Saint.