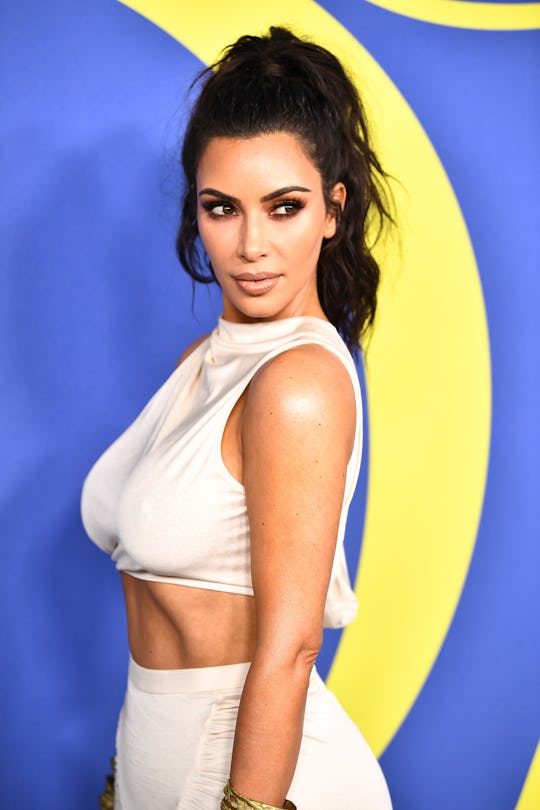 Dimitrios Kambouris/Getty Images Entertainment/Getty Images
Kim K's Newest Glimpse Of Chicago Proves Her Baby Girl Has One Adorable (& Big!) Personality
One of the best parts about keeping up with all the Kardashians is that you can do it even when the famous family's hit E! reality show isn't on the air. Kim Kardashian-West, for instance, does a great job of keeping her many fans up to date about her life as a mom to her three kids — North, Saint, and Chicago — on social media. Not only do Kim Kardashian-West's newest videos with Chicago shared over the weekend accomplish just that, but they also show off her baby girl's adorable (and big!) personality, and highlight just how much her daughter has grown up in the past few months.
It's been a big year for Kardashian-West and her baby girl, who was born right after the new year on Jan. 15, according to TMZ. Although it took Kardashian-West and her husband, rapper Kanye West, a few days to settle on the perfect name for their baby, they announced on Jan. 19 that their baby was named Chicago, according to People. And every since, it's been a very exciting time for the Kardashian-West family.
Even if it might have taken Kardashian-West a full month after Chicago's birth to post the first photo of her, according to Harper's Bazaar, she's been sharing photos and videos of her ever since. And Kardashian-West's latest shot of Chicago, which appeared to be a screen grab from her Instagram Story that she later shared on her Twitter account, might be the cutest yet. I mean, just look at that snarl!
In the above photo, little Chicago can be seen giving the silliest and most adorable expression to her mom's camera. And, understandably, people on Twitter could not get enough of this sweet selfie.
Seriously, 7-month-old Chicago is basically already her mom's twin, right?
Over on her Instagram Story, Kardashian-West fans were able to see Chicago's cuteness in motion, as she wriggled in her mom's arms in front of the camera. In the videos, fans were able to see more of Chicago's adorable head of hair, her super cute facial expressions (just look at those wide eyes!), and get a good idea about the little girl's growing personality.
During an interview on The Ellen DeGeneres Show last month, according to People, Kardashian-West revealed quite a bit about her daughter's birth, and even shared with host Ellen Degeneres how her other kids, North and Saint, were opening up to their little sister. According to People, Kardashian-West said:
[Saint] is nicer than North, I will say that. He loves his little sister. He's so sweet with her. I always have to watch out for him — he smothers her, and he has this really big hair so he just jumps in her crib.
As for North, who just turned 5 years old last week, Kardashian revealed that she is getting better at sharing with both of her siblings but is still a terrific big sister to her younger siblings, as People reported.
Although Chicago was born through a surrogate, Kardashian-West revealed to DeGeneres, according to People, that she has had no problem bonding with her youngest child. "...the second she came out, any fear that I had of, 'Will I not have this connection? Will she not look like me?' — all of that goes out the door," Kardashian-West said, according to People. "And instantly, she's ours."
And based on these newest glimpses of Kardashian-West with baby Chicago, the overwhelming amount of love she has for her daughter is even more evident. Honestly, she — and the rest of the world — could not seem any more smitten with her little girl.