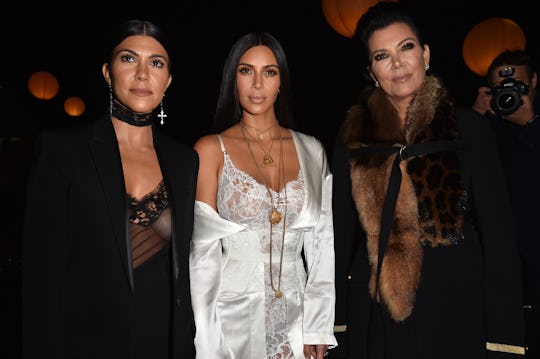 Pascal Le Segretain/Getty Images Entertainment/Getty Images
Kim Kardashian Speaks Out About The Robbery
In a trailer for Keeping Up With The Kardashians, Kim Kardashian finally spoke out about being robbed in her hotel in Paris in October. Kim's Paris robbery comments are just devastating, because you can tell that she was truly terrified that the robbers were going to kill her. In the short clip, Kim is speaking to sisters Khloe and Kourtney, according to E! News, and she's in tears.
"They're going to shoot me in the back," she says to her sisters. "There's no way out. It makes me so upset to think about it."
The entire promo is really intensely emotional, and fans can't help but feel for Kim, who really did live through a traumatic incident. Kim was reportedly in bed in only a bath robe when the robbery took place. The concierge of her luxury hotel with apartments for its guests was reportedly tied up and gagged and hidden in a cupboard within the building, according to Us Weekly. The robbers reportedly held him at gunpoint and demanded the key to Kim's apartment. Then, the robbers held Kim at gunpoint, bound her hands, gagged and blindfolded her, and locked her in the bathroom of her room. They then stole millions of dollars of jewelry, according to Us.
A source later told Us Weekly that Kim begged the robbers not to kill her and talked about her children:
She thought there was going to be a sexual assault or that she was going to be killed in the bathroom. They did not speak English. Kim was hysterically crying, begging for her life, telling them about her babies. In her head, at that minute in the bathroom, she thought her life was over. There was a gun on her the whole time.
Kim notoriously disappeared from the public eye for quite awhile after the incident. She only recently returned to social media, with her first Instagram post in months.
The robbery also took a toll on her husband, Kanye West, as he was famously admitted to a hospital just shortly after the incident. Now, though, it seems they are all recovering, and that Kim has actually benefitted from taking some time out of the spotlight, according to People:
Taking time off after the robbery has really changed Kim. And for the better. She initially was just too shocked and traumatized to deal with anything but her kids. As time went on, she realized that she actually loved her slower life. She feels very grateful that she has been able to spend the past few months just focusing on her kids. Kim thinks they are growing too fast and she has enjoyed spending more quiet time with them.
Fans of KUWTK are no doubt looking forward to hearing more about the family and their healing process, but let's remember that Kim is a real person who has suffered real trauma. Regardless of how much she decides to speak out, her experience should not be trivialized.